Search results for: "bambi crozier"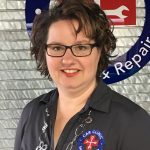 Changing the Image of the Industry; One Customer at a Time.
Bambi Crozier and her husband Neil own Car Clinic in Lowell, AR. They are dedicated to lifelong customer relationships and are working to change their customer's image of the industry to that of a profession and not just a trade.
With her background in customer service, she and Neil set out on a mission of change. She started by asking her customer's a lot of questions about their vehicle. She discovered that her customers wanted the down and dirty truth about their vehicle needs.
Listen to her story of startup and transformation. She knows that the rapid change in technology and the way tech is affecting how business is done today will require a smarter, wiser business owner. She believes in the power of the statement: 'You Don't Know What You Don't Know.'
Listen and view episode notes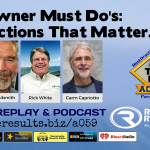 Shop Owners Must Do's: Daily Actions that Matter: Why Routine Matters.
We had a very deep discussion on critical daily actions that will keep your business compliant and running smoothly. You'll walk away with a strong sense of discipline in building a daily task list that you stick with. Without proper planning and a strong checklist, that you are accountable for (or that you delegate), too many slips through the cracks and eventually crashes into your well-intentioned routine.
Bambi Crozier wife and co-owner with Neil Crozier, of Car Clinic in Lowell, AR, Mark Goldsmith Mark's Independent Service in Chatsworth, CA and Rick White Rick is President and Lead Coach for 180BIZ bring their great insights on the importance of planning to be a strong business leader and watchdog.
Listen and view episode notes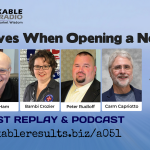 Find A Blue Print Outlined For Finding Success If You Are Going To Open An Automotive Aftermarket Service Repair Shop.
There is some secret Sause shared here including a few preferred methods on how to start, setting up your spending plan, how important location is and the need to know the demographics of that local community. Is the income level such that money can be spent on vehicle service and maintenance?
We talk financial, (knowing your numbers) debt, cash flow. All very important parts of a CEO's responsibility. May great technicians, who are unemployable, strive to start their own business because they want to do things their way. Most find out it is not an easy task. There are responsibilities beyond financial and cash flow like, marketing, the tax man, HR laws and that is just the tip of the iceberg.
This panel does a great job of explaining the challenges you'll need to deal with, so you can find your successes sooner rather than later. It is a slow process, but success shouldn't take years to achieve.
Listen and view episode notes