Search results for: buckley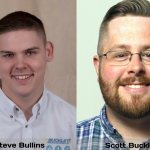 The Future of Our Industry Speaks Out on Tech, Technology, Millennials, DVI and Customer Service. 
Scott Buckley and Steve Bullins from Buckley's Personalized Driver Care bring a refreshing look at our industry. You'll be happy to hear this duo speak on so many topics.
All the while you are listening, consider these guys are the shop owners of the future and will help guide and steer our industry for many years to come. We're in good hands.
Listen and view episode notes