Search results for: mattinat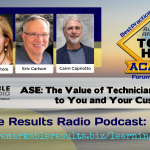 Do the consumers, technicians and shop owners appreciate the value ASE brings to the aftermarket? This Academy forum takes on this question.
Join ASE's Trish Serratore and shop owners Amy Mattinat and Eric Carlson in an important discussion on the value proposition of ASE. We talk consumer education, the importance of messaging from the top down has a big factor if the technicians will keep up their certifications and become a Master Technician. The discussion flows to consumer awareness and the new ASE site geared to consumer knowledge and awareness of ASE.
ASE has been around since 1972. They are the only industry driven credentials in the industry. Getting behind ASE certifications will be a strong differentiator as technology and the skilled workforce
Listen and view episode notes