Posts Tagged 'Female Friendly'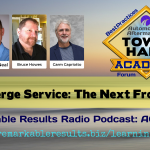 Is Your Customer Service Exceptional? Need to Lead in Your Market?
The Academy panel discusses a commitment to customer service that must start from a quality business culture or code of conduct. Learn about certain tactics that will make your shop stand at the top of the list as you show your customer uncompromising differentiation.
Listen and view episode notes