Posts Tagged 'Service Advisor'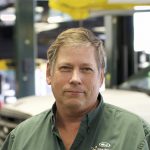 Gary Sharits, Service Manager of Christian Brothers in Land O Lakes, FL is the winner of the 2016 Repair Pal / ASE Master Automobile Technician of the Year.
Gary has kept up his ASE credentials as Service Manager and credits his technician experience as a sound reason he can lead relationships with his technicians and customers. He shares his humble beginning from a mechanics helper at a Chevrolet dealer's used car department, to where he is today as a service manager.
Sharits brings great insight to technicians and service managers and has a great message to youth wanting to join the industry.
Listen and view episode notes