Posts Tagged 'Technicians'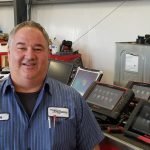 NAPA ASE Technician of the year, 2009, in Chicagoland has a career that spans 40 years and still does it all; but loves diagnostics.
In 2009 Tom Meyers was selected as the NAPA/ASE Technician of the Year for the Chicagoland area, a first for a non-owner technician. He is an ASE Master Certified with L1 Certification and works on everything from computer diagnostics and engine performance to engine installations and rebuilding differentials. In the past 40 years he has always focused on repair quality and the latest automotive technology.
Listen and view episode notes