Posts Tagged 'Time Management'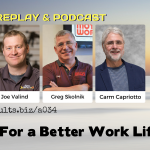 If you want Work Life Balance, first, you must BELIEVE that it's possible. Once you believe that it's possible, you must DECIDE that is what you want and set your INTENTION to make it so.
Become an expert at work-life balance by making it a habit, planning for it. You've heard many of the principles in this episode but you may have never heard them in an unfiltered way from your industry peers.
Make the choice what you are going to be. Be the master of your business. Be the master of your family when you are with them.
Listen and view episode notes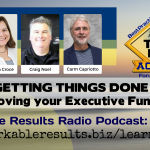 Are You Getting Things Done? Do You Find it a Challenge to Finish Tasks?
Listen to three of your industry peers as they discuss their perspective on what it takes to accomplish their tasks and goals. You'll hear about creating a theme day, tactics to get more done, time wasters, and a suggestion that if you try to do too many things you don't do any of them well.
We all struggle with this in this time challenged, too much to do world. This episode will help you find methods and ideas to make you more productive.
Listen and view episode notes