THA 061: Know Your Daily Sales Break Even Number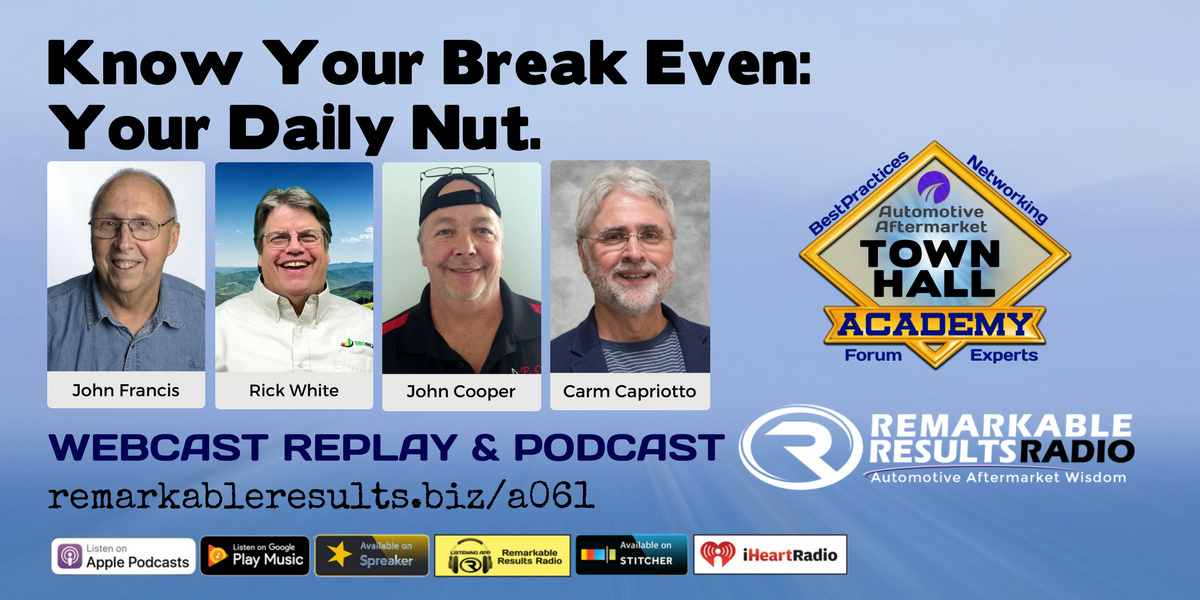 Podcast: Play in new window

Your Learning Curve Never Sounded So Good!
Helping automotive aftermarket professionals improve; one lesson at a time.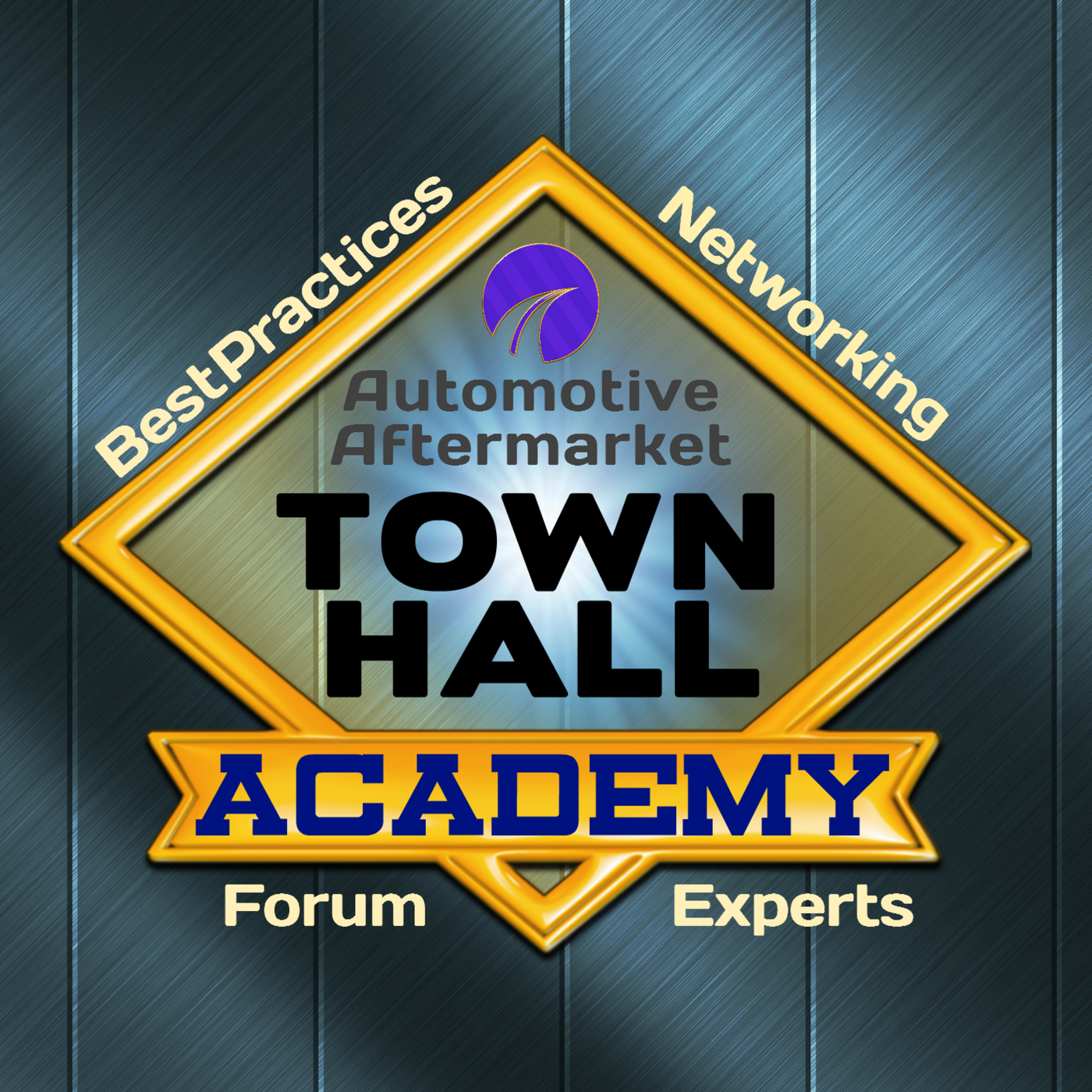 Learn from your industry peers in a round-table forum. Get new ideas,  
perspectives, trends, insights, best-practices and expertise from aftermarket professionals.
John L. Francis has over 50 years of industry experience and has owned and operated Francis Automotive Services Inc. in West Chester, PA,  for more than 35 years. John's most important business philosophy as a shop owner is to "be honest, speak from your heart, and always be authentic", so it's no mystery why he's been so successful.
John is a past National Chairman of the Automotive Management Institute. He has served as the Chairman of ASA CARS. John also served on the ASE Board of Directors for 8 years and served as an AMi trustee for many years as well. He's been featured in AutoInc magazine and is a two-time runner up for NAPA Tech of the Year. John is a recipient of the AMi Alpha Award. Not only is John an extraordinary business professional, but his commitment to the industry and his peers is second to none. Listen to John's previous episodes HERE.
Rick White has been working in the automotive, software & coaching industries for greater than thirty years and is currently an AMI-approved training instructor.  He owned and managed several successful automotive repair shops.  Currently, Rick is President and Lead Coach for 180BIZ, an auto repair shop training and business coaching company proudly serving the independent auto and truck repair owner since 2006.Rick has been acknowledged as an industry expert and has been featured in many automotive trade publications. Rick has been training and speaking at industry events across the country including AAPEX, Vision and for AASP PA just to name a few. Find all of Ricks contributions to the podcast HERE.
John Cooper is a partner at ECP Auto Repair & Service in Cuyahoga Falls , OH. Before becoming a business owner John worked in manufacturing for 23 Years. That is where he met his future business partner, Nate  Winston in 2008.
Talking Points:
Knowing your break-even point — the point at which total cost and total revenue are equal is important to running a business. It is not just good enough to reach your daily break even, you must exceed it if you are to stay in business.
Knowing the break-even point is helpful in deciding gross margin on parts, labor rates, setting sales budgets and preparing a business plan. If you do not reach your daily break-even then there is a great chance that you had a loss of profit for the day.
Find the worksheet calculator for break-even, a promised in the episode, at the end of the talking points.
Critical to know you're breakeven so you know if you're digging a hole.
Include monthly loan payments in expenses to have the cash flow to pay them.
Calculate your break even at least every six months, quarterly preferred.
Watch for expense creep. You must pay attention to your expenses closely.

Health insurance.
Fuel costs.
Energy costs.
Waste/Recycling costs.
Subscriptions and fees.
Shop supplies, gloves, eye protection.
Phone and internet invoices.
To name a few.

Gross Margin Creep and accuracy.

Costs of oil and staples. Review supplier invoices and be sure that you are making the right margin.
Inventory on the shelf, is your computer cost reflected properly?
Credits for cores, alleged defective, new returns.

Know your break-even number but don't focus on it. Don't focus on surviving, focus on thriving. Calculate a growth number and focus on that.
We are activity driven and feel that fixing more cars per day will raise your sales and margin.
John Cooper valued his business coach, John Francis in showing him the light for break even and to create a sales goal that included a strong profit.
Components of a Break-Even Calculator

YTD Gross Profit Percentage
Average Monthly Expenses
Monthly Depreciation
Monthly Principle Payment (loans)
Days Open Per Month

Power of gross profit in break-even number. Run the calculator and see the impact margin makes to your break-even. The higher your Gross Margin the lower your Break Even will be.
Gross Margin management is important. Be sure your costs are correct in your SMS and your margin on labor has been reviewed quarterly or at least twice a year.
You must normalize your expenses and be sure there are only expenses directly for the business in your P & L.
Expense creep. You must watch your expenses if not they will grow. Carefully review all expense invoices before they are paid.
Be careful if you are installing an engine that will carry lower margins. You will make your sales nut but may not hit your gross margin goal. Those anomalies happen. Be aware. This demonstrates that break-even is not an exact science.
Billed hours per day is a strong indicator.

What are your potential billed hours per tech?
Your labor inventory.

Goal setting must include stretching your number. Incredible growth happens when you intelligently stretch beyond the norm. You may have to include more people to accomplish this and keep watch on when that new hire many need to happen.

You need to have the people to reach your stretch goal.
A good idea to plan out three years ahead.

Michelangelo said: "The danger in setting goals is not setting them to high and missing them; it is setting them too low and hitting them. "

It must be your goal, not your coaches, and it must be a stretch.

John Francis: If you are hitting your goals 60% of the time you are doing good in having set stretch goals.
Download The Break Even Calculator Spread Sheet offered by John Francis Here.
---
This episode is brought to you by Jasper Engines & Transmissions. When a car's engine or transmission fails, it's

not the end of the road. A remanufactured drivetrain product from Jasper Engines & Transmissions will give your car a new lease on life. JASPER has over 2000 Associates, three manufacturing facilities, two distribution centers and 45 branch offices across the country. They're all working to produce, transport and deliver the perfect product. That's what they do best… keep customers happy. Visit jasperengines.com