THA 075: Am I ready For My Second Branch?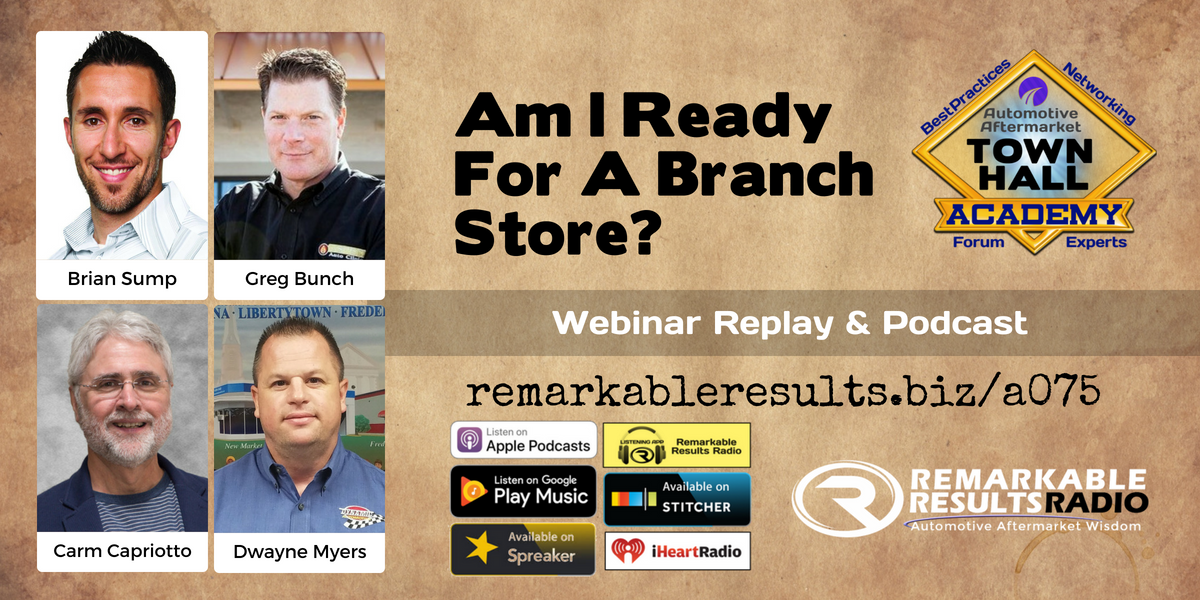 Podcast: Play in new window

Your Learning Curve Never Sounded So Good
The Panel:
Greg Bunch is the owner of Aspen Auto Clinic a five-store operation in Colorado Spring, CO tells the story of how his first branch came about. Greg tells of his best practices on how to scale for multiple locations. He shares the traits of a shop owner when preparing for expansion. He became ASE master certified at 23 and, soon after achieved an L-1 certification. He continues to maintain them today. He first opened for business in his two-car home garage for the first few months in 2001. Greg put his tools away in 2007 after acquiring his second location and decided that he needed to work on his business. He realized that he needed to seriously undertake the transition of becoming a businessman in the car industry instead of just a car guy in the business. Listen to Greg's previous episodes HERE.
Dwayne Myers is a partner in Dynamic Automotive in the greater Maryland area. Dwayne invests time in the industry with the Auto Care Association and serves on the education committee with CCPN (Car Care Professional Network). Dwayne was recently honored as one of only 17 outstanding individuals that qualified for the prestigious 2017 World Class Technician Award presented by The Auto Care Association and ASE. He is very passionate about hiring and sustaining a strong and engaged team. Listen to Dwayne's previous episodes HERE.
Brian Sump is not your typical shop owner. A former professional athlete, Sump had never turned a wrench in a shop before starting Denver-based Avalon Motorsports in 2007.  But in the years since, he has used his business acumen and a detailed, process-based management philosophy to grow the German-specialty shop into what a number of industry consultants consider to be an industry leader. Listen to Brian's previous episodes HERE.
Key Talking Points:
Not many in our industry started out with an MBA, we started as a technician.

Growing into multiple locations takes finance, leadership and strategic planning along with great people and a strong WHY.

Best advice is to get advice!

Use your business coach

Transformers Institute (Greg Bunch)

Another branch, no matter if your second or your sixth requires a major commitment of time, money and people. You need an acquisition strategy

Do you want to grow your brand and your footprint?

Do you want to make opportunities for your team so they keep growing and moving their career with you.

One person cannot run everything.

Team development is a high priority.

Yet keeping your DNA inside of each branch and every team member is important. Your influence is necessary even if you don't see them each and every day.

There will be growing pains no matter how many stores or how good a leader you are.

People development will be your number one priority.

You must invest in training and the costs associated with it before the next location is open. Don't open until the people are ready.

They must understand your culture and SOPs.

Cultivating a great team can help you or allow you to grow.

If you have great people you may see a great opportunity to grow to allow great people opportunities to grow inside your company.

Synthetic or phantom stock is a form of an ownership piece to consider for key team players. Contact your legal team or accountant. A way for a golden handcuff.

Consider LOCATION is the single most important strategy of expansion. It can be the biggest make it or break it factor.

A specialty shop may not necessarily need location as a factor. Such as Euro or Asian specialty shop.

An acquisition is a preferred method to grow.

Seller financing, SBA, Bank with SBA behind them will want 25% investment between the buyer and seller to do a deal.

You'll need to create a pro-forma financial statement. Projections of revenue, margins, costs and net profit for a period of time, usually three years.

There is a standard of normality based on your income statement. You can create a pro-forma based on real data not only on your current company but of the one you may be attempting to purchase.

You still must create a proforma if you are starting a new branch from scratch. You need a projection, a minimum three-year plan.    

Financially it could be a $500,000 investment, depending on your model, may be needed to grow.

An industry standard benchmarks for a single location net profit: 20%

An industry standard benchmark for a multi-store operation net profit: 15%

If you are okay accepting 85-90% of the quality of service, sales, profits and capacity between all your stores vs. having only one store then you can move into a branch strategy. In other words, if you can't accept a small decline in these areas then growing may not be for you. For many shop owners, this is a huge hurdle.

Buy in from your team requires you to have an open mind and listen. Your team leads must be allowed to run the branch and have a say on decisions.

Growth is not necessarily about the owner earning more to increase a better lifestyle. Don't overspend personally. If you have a plan to grow you need to leave capital in the business.

In 2015 a study said that 58% of mom and pop shops are looking for a succession plan.

We are on the verge of major change in the industry with consolidation
Facebook Twitter Linked In Email
---
This episode is brought to you by Jasper Engines & Transmissions. When a car's engine or transmission fails, it's

 not the end of the road. A remanufactured drivetrain product from Jasper Engines & Transmissions will give your car a new lease on life. JASPER has over 2000 Associates, three manufacturing facilities, two distribution centers and 45 branch offices across the country. They're all working to produce, transport and deliver the perfect product. That's what they do best… keep customers happy. Visit jasperengines.com
Download the Remarkable Results Radio listening APP for your smart device: