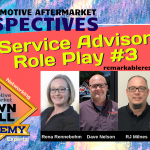 THA 130 Service Advisor Role Play
My guests are role-playing these three situations: #1: Brakes- the client knows what is wrong and the car has been inspected somewhere else, $2: Oil change- just looking for a price and #3: The Check Engine Light is on – how much to replace the catalytic converter?
My panel includes Rena Rennebohm CEO of Empowered Advisor, Dave Nelson From Antero's Automotive, Greenwood Village, Colorado and RJ Milnes from DK Automotive Repair, Antioch, CA
Let features and benefits be the service advisors strong tools and during a call, you are interviewing the customer and they are interviewing you, both looking for a good fit. If cheep is what they want and you can't deliver you've learned.
Listen and view episode notes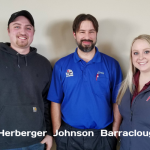 Service Talk Part 1 – The Center of the Hub: Customer – Technician – Owner
Service advisors are the liaisons between the customer, technicians and the owners. Their job is one of the most important in the aftermarket service industry.
Trust and Communications are the keys to building a relationship with your customer. Trusting your tech is also critical to building a strong relationship.
We talk female service advisors, curb appeal, the disadvantage of being a former technician and how to get the owner to make the SA the point person, among other topics.
I'm so glad to welcome Racheal Barraclough, Service Manager at Amton Auto & Truck, Chris Johnson, Service Manager at Total Automotive, and Nick Herberger, Service Manager at Scruggs Automotive.
Listen and view episode notes