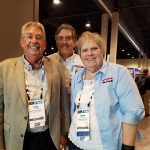 Association Membership is Right for Today's Business Climate.
If you are not an association member, it is time. National and statewide organizations need your membership and you need the association.
Association membership helps improve your 'future think' so you can align your business for tomorrow and they make it easier to run your business because you will have resources to help you.
For the majority of members, their dues cost is zero based on participation in endorsed programs. Many times the dues ROI is more than doubled and many times even a triple payback.
Listen and view episode notes