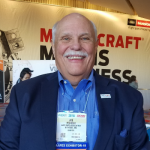 What Are The Puts And Takes In Servicing Vehicles Equipped With Advanced Technologies And Automated Driving Functions – ADAS
Vehicular data is important for various reasons ranging from collisions to communications and safety. With the advancement in technologies and improved automated driving functions, data and vehicle information is vital to the future of the aftermarket.
My guest is Joe Register who is the Vice-President Emerging Technologies at Auto Care. This is his second interview. His first episode was episode 381 which talks about SVI (Secure Vehicle Interface). In this episode, we discuss the technologies and features that keep consumers safe. With a focus on calibration and self-calibration, we speak to the vehicle data privacy and the investment in ADAS calibration training and equipment among others.
Listen and view episode notes