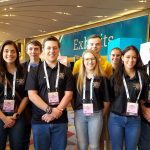 Where did high school auto shop class go? Into the STEM program at Wheat Ridge High School.
A college-level program at the high school level is challenging 80 students to learn design, manufacturing, marketing, media, electrical, welding, fabrication with a competitive will to win as a collective team.
An exciting a refreshing look at how just one high school STEM program is making a difference that could one day engage students to join the automotive industry. This group has won the challenge twice in the last three years.
They are also working on a two-person NASA Mars vehicle that must fold up into a 5x5x5 foot space.
Listen and view episode notes