Posts Tagged 'Best Practices'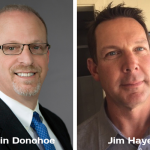 Standards And Values Foster a United Purpose For Your Team
My friend Kevin Donahoe from Pacific Motor Service with two shops in Monterey, CA
And Pacific Grove, CA along with his general manager Jim Hayes go deep into their culture. They have a set of standards and values that drive their organization's behavior.
You'll learn about the creation of these standards and values, we'll discuss the origins of a few and how these standards and values are the anchors in their enduring business culture.
You are about to listen in on a conversation that could be the impulsion to get you started. I believe once you've listened you'll want to start your work on building your enduring business culture.
You are going to learn a lot, I believe you'll have a clearer picture of the power of an enduring business culture and you just may walk away with enough motivation to get started and to find some juice to improve what you currently have.
Listen and view episode notes