Posts Tagged 'Connected Car'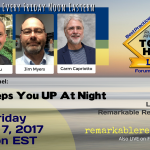 What Keeps You Up At Night? Is a metaphor on what we are concerned with as the world changes at unprecedented speeds.
You need to get out ahead of change and set the vision for your company. Paying attention to every business opportunity and challenge along with technology, business culture and finding and keeping good people helps you sleep well. The occasional 2 AM get up 'thought' just may signal an important strategy to pay attention to.
Listen and view episode notes