Posts Tagged 'Human Resources'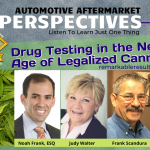 THA 144 Drug Testing in the New Age of Legalized Cannabis
We are talking about Drug Testing in the New Age of Legalized Cannabis. You've got to pay attention to your HR policies and procedures as states continue to rule on medicinal cannabis, recreational Marijuana and the decriminalization of pot.
As drug testing is something shop owners do, what are the guidelines now with states legalizing Cannabis. What about an accident on a test drive. What type of tests are required? Have you talked to your liability insurance or workman's comp carriers?
The panel does their best to sort this out and provide you with plenty to consider. I'm with Judy Zimmerman Walter, attorney Noah Frank, and Frank Scandura.
Listen and view episode notes