Posts Tagged 'Human Resources'
Improving Employee Loyalty
Fuel your engine today with our discussion on Improving Employee Loyalty with my shop owner panel Donnie Hudson from Troy Auto Care in Troy, MI, Roy Foster from Roy Foster's Automotive in Reno, NV and Steve Finzel from Finzel's Master Tech in Terre Haute, IN They've built a family culture in their shops and you can too.
You'll hear how they did it and understand why they created the programs that build loyalty and retention from their people. I know you've heard this adage before: "Take care of your people and they will take care of your customer." This episode will give you a great idea on how to do that.
Prepare for many strong ideas coming at you so. Pick a few and start to implement them in your business. The panel admits, it did not happen overnight but was nurtured for years. So you need to start. Keep in mind that it is imperative you seize onto a new idea, own it, implement it and watch it transform your business.
Listen and view episode notes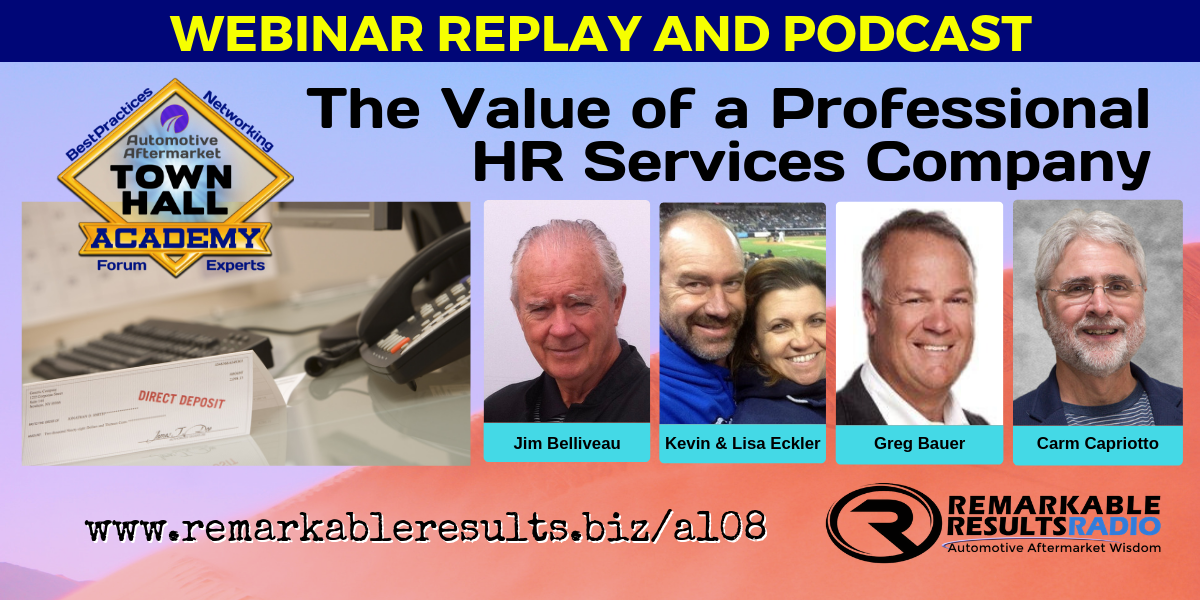 The Value of a Professional HR Support Company
OK Let's Talk HR and Professional Employer Organizations (PEO). The Academy team includes Kevin & Lisa Eckler, Foreign Car Specialists, Poughkeepsie, and PEO specialists; Jim Belliveau, from Acadia HR and Greg Bauer, from ESC Employer Services
Shop owners Kevin and Lisa Eckler brought me this topic because it has made a huge difference in their business. As Kevin says he wants control and trusts no-one. The sheer fact that he brought on a PEO company to be his HR department is a testament to the fact that he is still in control and has a ton of trust.
As Kevin says, they started on his handbook, it needs to work legally because if there is a problem the policy will be carefully scrutinized. Benefits are another huge option in a PEO. So many in the industry have told me that this is the year they are going to expand their team benefits so they can have a competitive advantage and also to become a retention tool. A PEO can help with your benefits program.
Listen and view episode notes