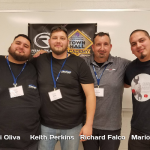 Trained By Techs – Creating a Training Commitment Inside All Shop
Recorded at ASA-PA's the panel is Keith Perkins, Richard Falco, Tomi Oliva and Mario Rojas. We discuss the loss of our talent, that being a lead diagnostician can be profitable, that techs do side work because they are not being compensated properly, and how to get a training commitment started in a shop that doesn't. And finally, do our shop owners really know what is going on in training classes? Think that one through.
In such a short time the Trained By Techs group has made some incredible strides. They appear at a lot of events, by spending their own money to get the word out. Their enthusiasm and dedication is exactly what our industry needs and this talented group of volunteers is sharing their passion for education in the automotive training industry.
They are diagnosing cars every day and are LEARNING new things. Watch their videos and the conversation and start your learning from there.
Listen and view episode notes