Posts Tagged 'Social Media'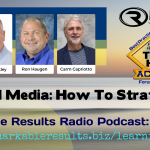 This Academy Panel says Social Media is the Most Important Marketing Tools at your Disposal.
Carrie-Lynn Rodenberg, Greg Buckley and Ron Haugen discuss their views on the power of social media. They talk about the value of posting, how they do it, the frequency, and where they get content. The panel discusses the long term viability of websites and the growth and power of Facebook and Google into the future.
Greg Buckley shares his five "E's": Educate, Engage, Entertain, Entice and Elevate as it relates to Social Media. Ron Haugen shares his inspirations for posts and a sure method to grow your likes.
Listen and view episode notes