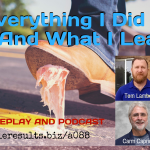 Everything I Did Wrong and What I Learned
If you are a person who thinks you can do everything yourself, then you need to listen to this trio explain their knock upside the head 'V8' moments when they realized it was the worse thing they could have ever done. Learn about this panels school of hard knocks so you don't spend too much time in the places they were and accelerate your business because you now have the proof of what to do to prevent your business from being stuck in neutral.
It is not what you don't know it is also about what your people don't know. We talk micromanaging, training, business models, KPI's and empowering your people and yes they will make mistakes just like you did.
With me for this Academy is Bambi Crozier, Car Clinic in Lowell, AR, // Frank Scandura, from Franks European in Las Vegas, NV and Tom Lambert, from Shadetree Automotive, Layton, UT
Listen and view episode notes