Posts Tagged 'Technicians'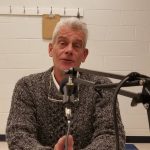 The Knowledge Of Electricity Is The Basis Of Every Solution To A Diagnostics Problem
Gary Smith has been fascinated with electricity his whole life and understands that the more you know of electricity's core fundamentals, the better diagnostician you'll be.
He says many technicians have never been to a basic electric class so how will survival in today's repair environment keep pace with the ever enhancing tech, circuits, and modules. Gary like so many other trainers I've interviewed can't say it enough. You must continually train, invest in yourself and get to a basic automotive electrical class every three years.
Ham radio enthusiast, Gary Smith, tells the story of Edward Weston who invented a tool in circa 1893 that you still use today.
Thanks, Gary, for the reminder that you must be curious if you want to solve diagnostic challenges today. He reminds technicians that after a training class, they must go back to educate the rest of the team. When you teach you learn.
Listen and view episode notes