Posts Tagged 'Technology'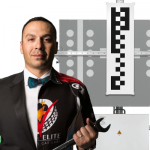 ADAS is the Next Big Thing. Advice from an ADAS Calibration Shop.
Matthew Roayaee is franchise owner of Auto Check- Cypress Station in Katy, TX. Matthew brings his insights as an ADAS calibration shop. Matthew made the investment in ADAS calibration and he shares his strategy and challenges for being an early adopter.
Learn why Matthew Roayaee decided to invest in ADAS calibration. You're going to get his perspectives on his challenges, what he recommends shop owners do to meet this head on and other wide open topics like barriers to entry, and training among other important issues.
Listen and view episode notes