Posts Tagged 'Vision Training-Expo'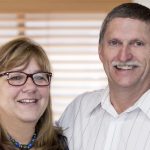 Husband and Wife Team Keeps Careful Watch on all Details of their Business.
Judi and Dana Haglin work together so well because they say 'They are opposites'. Each of their own passions help drive their successful business. Haglin Automotive, a twelve bay shop in Boulder, CO, was recognized in 2015 as Motor Age Top Shop of the Year. They continue to look for ways to improve their systems and marketing that will give them a competitive advantage.
The Haglin's are all about team and culture and share many great ideas and insights on marketing, training, and stress relief. They share their rules for finding harmony in their personal and business relationship, their core values and their top strategy to corral new customers.
Listen and view episode notes