RR 238: Greg Bunch from Aspen Auto Clinic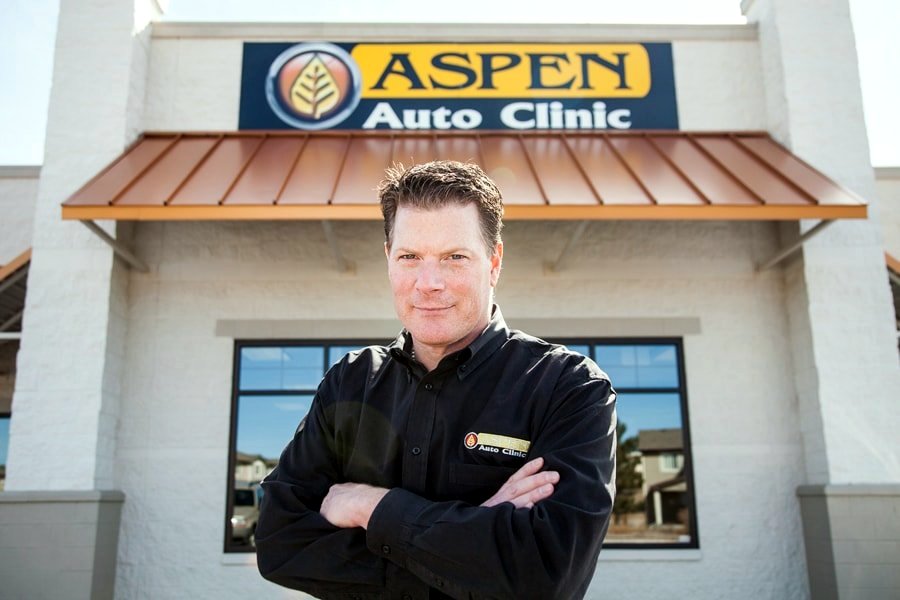 Podcast: Play in new window
Greg Bunch's career as a technician actually started when he was five or six years old taking apart his wagon, bike, or anything else he could get his hands on. He dreamed of the day he could motorize something!

Greg's first car was a '66 VW Bug that really should have been scrapped.With the help of family, friends, and neighbors, Greg rebuilt the Bug and learned all about air cooled Volkswagens. Greg took his passion and worked his way up from a Volkswagen specialty shop to learning about all European cars. He has since worked at general repair shops, as well as in dealerships.
Greg became ASE master certified at 23 and, soon after achieved an L-1 certification. He continues to maintain them today. He first opened for business in his two-car home garage for the first few months in 2001. Greg put his tools away in 2007 after acquiring his second location and decided that he needed to work on his business. He realized that he needed to seriously undertake the transition of becoming a business man in the car industry instead of just a car guy in business.
Since that time, Greg has grown his business to five locations that serve the Front Range of Colorado. He is not only the CEO of his company, he is the Chairman of Transformers Mastermind, a group of like-minded, multi-store shop owners who endeavor to be "the best of the best". Greg is also a partner in Full Throttle direct mail, a company dedicated to helping great businesses grow. Greg is on the advisory board for Ratchet and Wrench magazine and is routinely interviewed for articles in the magazine.  He also works with owners of both large and small shops for select consulting engagements.
Greg's auto repair company, Aspen Auto Clinic, has been featured on a reality show on ABC called "The Shift", as they documented Aspen's crew repairing donated cars and giving them away to people in need. They also participated in "AutoBowl 2015" where shops across Colorado competed with each other while repairing donated cars. The real winners were those who received the vehicles after they were repaired. Greg's company has won "best mechanic" 15 different times from two major Colorado publications.
Greg lives with his wife Elaina in Colorado. They enjoy their five children and six grandchildren. Greg and his wife have a true passion for change in the automotive industry. They feel that the public truly appreciates those who are doing it well and seeing automotive professionals get the respect and compensation they deserve.
Talking Points:
He expanded to his second shop based on an interview he had with a technician who wanted to come to work for him.

Took only one week to close the transaction.
It was a tough year. Trial by fire. He didn't know what he didn't know.
The business models did not match. The business he bought was built on price. Greg's business was not.
All technicians ultimately were replaced.
Took SBA loan.

Traits of a shop owner who would like to expand:

Afraid of the risk.
Waiting to get ducks in a row.
Comfortable with what they have.
Don't know how to get it done.

When do you know when to expand?
Sound business practices help you scale to multiple locations.
You must have documented systems and practices.
A training system.
Having the staff that knows what they are doing.

You must over-staff.
Integrated in your policies and procedures.
It will cost some money in payroll.
They must be exposed in your culture before you open.

Don't open two in the same year.
If in a completely new market your cost of marketing is high because you cannot use the residual value of your current shop.
Do the demographics and research income levels.

He is looking for $70 – $80 K income level to afford his services.

Good technicians do not want to work weekend hours.

He recently changed his techs hours so they will only work Monday – Friday.

Saturday the service advisers work until noon.

Service advisers are getting more hours of training per year than technicians.

Greg has a full-time trainer on board to train and develop Aspen's sales system.

You need capital to grow.

Owners need to take out what they need to live on so they can re-invest in their business.

Options for growth exist today.

Customer Retention.

Their training system works on converting customers into really good customers.
Doing targeted direct mail to specific vehicle ownership.

Transformer Mastermind Group.

Our mission is to change how auto service is seen by the public and to attract smart and talented people into the industry.
The group brings together higher-level operators.
They do not do shop visits.
They meet 4 times a year.
Favorite quotes: Behavior never lies and Inspect what you expect.
Aspen Auto Clinic Website
Transformers Mastermind Website
Aspen Auto Clinic Profile
| | |
| --- | --- |
| Years in industry: | 26 |
| Years in business ownership: | 16 |
| Number of technicians: | 25 |
| Number of service advisers: | 11 |
| Specialization: | All makes, but very well tooled and trained on Euro's |
| Total locations: | 5 |
| Number of Bays and Lifts: | 62 |
| Days Open: | Monday – Saturday, Technicians only work Monday – Friday |
| Annual estimated volume: | $9MM |
| What's Unique: | We cater to higher end clients, a very client centered business |
| Repair vs. Maintenance: | 50% / 50% |
| Special Accreditation's: | ASE Master L1 |
| Biggest Industry Challenge: | Technician Shortage |
| Hybrid Repairs: | Yes |
| Philanthropy: | Life Network as seen on ABC |
| Supplier Marketing Program: | Tech Net – Bosch |
Be socially involved and in touch with the show:
Facebook   Twitter   Linked In   Email
---
This episode is brought to you by Federal-Mogul


Motorparts and Garage Gurus. With brands like Moog, Felpro, Wagner Brake, Champion, Sealed Power, FP Diesel and more, they're the parts techs trust.  For serious technical training and support – online, onsite and on-demand – Garage Gurus is everything you need to know. Find out more at fmmotorparts.com  and fmgaragegurus.com