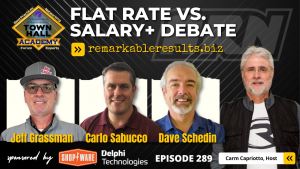 Are you doing flat rate, salary, or a hybrid model? What are the pros and cons of all three? My panel brings light to this hot topic from different perspectives. The consensus from the group is there is no cookie-cutter model on pay plans you must factor in your culture and your team.
remarkableresults.biz/a289
The Voices, Ideas and Insights that are Shaping the Future of the Automotive Aftermarket.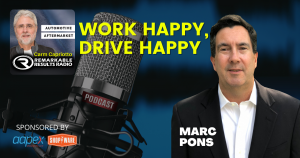 Find out how Marc Pons maintains a "Work Happy, Drive Happy" culture inside his 9 shops. Marc is also the president of ASTA in North Carolina, the Automotive Service and Tire Alliance, the folks who bring you ASTE. Marc explains the importance of setting routines to reinforce your values, it only takes 15 minutes at the beginning of each day. Can your shop spare 15 minutes? I think you can.
remarkableresults.biz/e768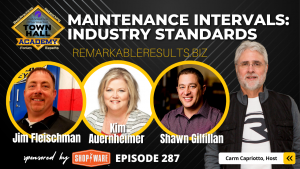 Maintenance services are the new frontier for the automotive industry. How do you shift your customer's perspective from reactive repairs to proactive repairs? Is your parking lot full of problem vehicles? Can we do a better job of helping the customer get long life from their Cars? My panel examines the importance of maintenance intervals and the value of informing and educating your customers.
remarkableresults.biz/a287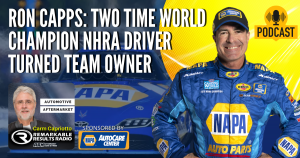 We are at the 2022 Napa Expo with reigning two-time world champion Ron Capps, who has just recently started his own Motorsports company. Find out what it's like being both the driver and team owner. Listen to Ron explain the initial rush when his race car goes from 0-100mph in 7/10 of a second. He says It's all about his team and the processes and procedures.
remarkableresults.biz/e767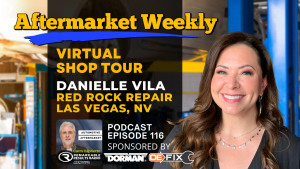 Guest host and shop tour with Jeff and Shari Pheasant, A Master Mechanic, Reno, NV. Find out how a media story on converter theft led to Jeff collaborating with the local sheriff's department.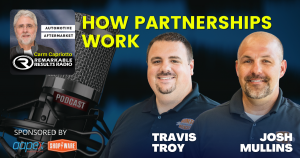 What does it take to build and maintain a long-term and successful business partnership? Why do so many fail? I'm with Travis Troy and Josh Mullins from Honest Wrenches, and they are debunking the misconception that partnerships in business don't work. Spoiler alert, just like a marriage, it takes hard work and clear communication with aligned values.  
remarkableresults.biz/e766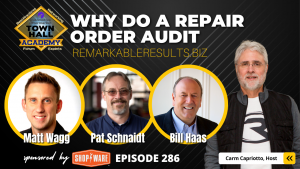 Are you chasing the KPI's in your business without pausing and diving into what creates those Key Performance Metrics? Are you reviewing repair orders? The amount of data filtered properly from an RO Audit will astound you. Use the data from a Repair Order Audit to refine your business.
remarkableresults.biz/a286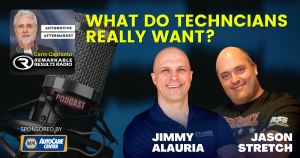 We all know that there's a shortage of workers for mostly all businesses in all industries because of the great resignation. As a shop owner, how are you attracting the best technicians? Are you promoting your culture and the opportunity to work in your business? Wouldn't it be nice to know what is important to technicians? What are they looking for in a shop, and do you offer it? Jimmy Alauria and Jason Stretch discuss the results of a recent technician survey that might surprise you. And how the value of the survey shapes the ads that attract superstars.
remarkableresults.biz/e765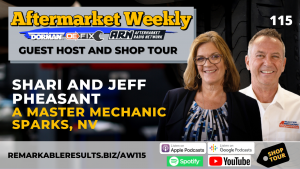 Guest host and shop tour with Jeff and Shari Pheasant, A Master Mechanic, Reno, NV. Find out how a media story on converter theft led to Jeff collaborating with the local sheriff's department.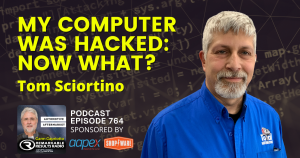 How secure is your computer and internal network? Could it survive malware or a virus? For most of us, our system just runs and is out of sight, out of mind…until something happens. I'm with Tom Sciortino, a good friend and local shop owner in my hometown, and his business computer got hacked. Tom's personal accounts were also hacked.  He bought a couple of laptops he didn't know about. Don't let this happen to you; keep listening to find out how he discovered the hack and the changes he made to protect his network.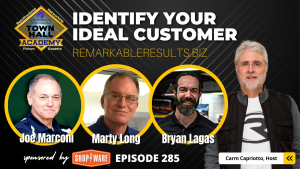 Why is understanding the psychographics of your ideal customer so important to your business? Why it is important to understand who your ideal customer is?  My panel discusses the importance of building relationships with customers that see the value in your business.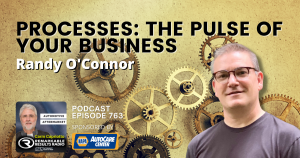 Have you ever thought about a few years ago and wished you did something differently? Maybe those few things that seemed impossible to implement weren't as difficult as you thought.  I'm with Randy O'Connor, Executive Director of Modern Tire Dealer Training and Educator Network. Randy gives an insightful analogy to processes and procedures being the lifeblood of your business. They connect everything. Put the work in and reap the rewards.
remarkableresults.biz/e763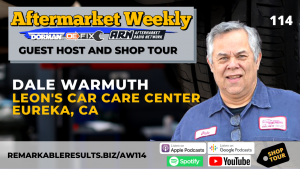 Guest host and shop tour with Dale Warmuth, Leon's Car Care Center, Eureka, CA. Dale emphasizes attention to detail in your shop environment for your customers and employees. His wife even bakes 30 dozen cookies a week for the shop. 
remarkableresults.biz/aw114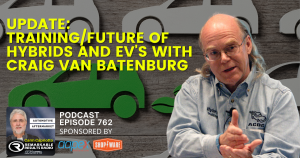 I'm sitting with Craig Van Batenburg, CEO of Automotive Career Development Center [ACDC] and a former repair shop owner, with an update on the pulse of the industry and his business. Is it possible ACDC is the last existing brick and mortar building that operates strictly for training technicians Monday-Friday? Take a seat next to me and tune into our lively discussion as it relates to everything Hybrid and EV.
remarkableresults.biz/e762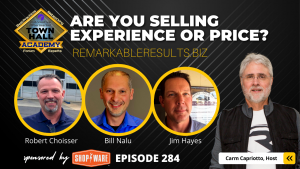 Price, price, price…our lives seem tied to it. And when it comes to customers, sometimes the price is the only question they feel they can ask. Instead of chalking them up as 'price shoppers,' are you using it as an opportunity to build a relationship and educate them on the value of your services? Many struggle with this. My panel discusses ways to make price irrelevant. Stay tuned and shift your perspective on price.
remarkableresults.biz/a284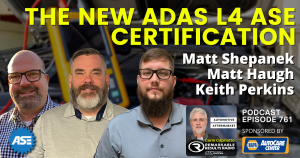 Have you heard about the new ASE L4 ADAS Certification? This test has been in development since January 2020 with the help of industry experts. My guests Matt Shepanek, Matt Haugh, and Keith Perkins say the certification is going to be a major differentiating factor when hiring technicians. We all know the best technicians are the ones constantly learning and training. Stick around for an inside look into the test development and tips on how to pass the test.
remarkableresults.biz/e761