FTR 071: Mike Davidson – Wage and Hour Laws – Don't Ignore This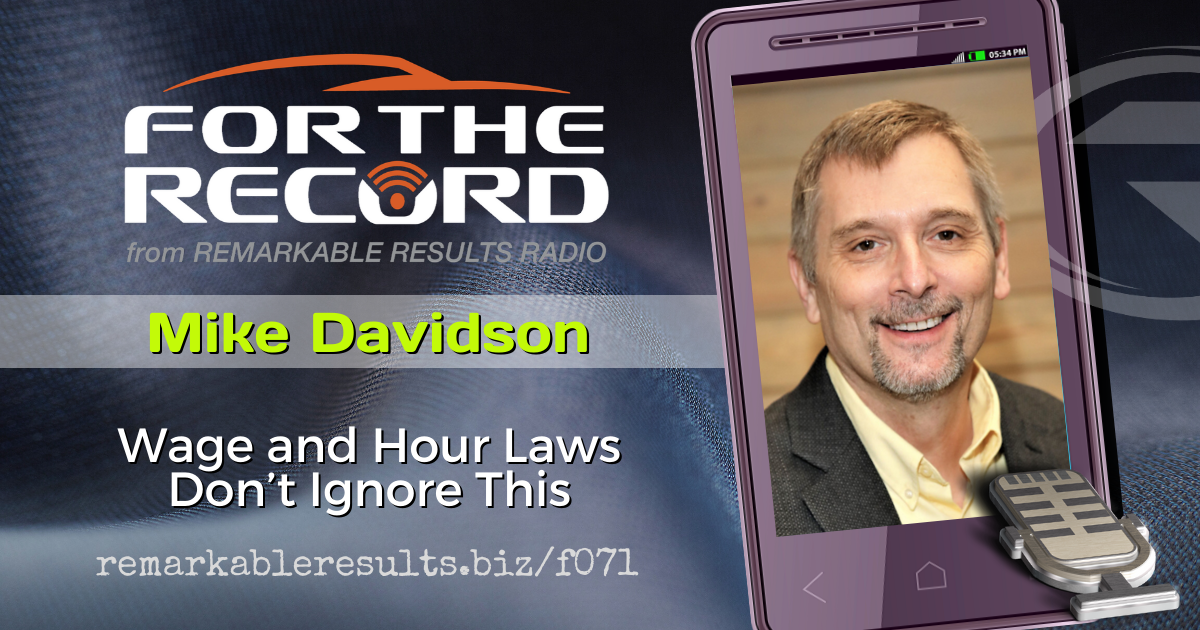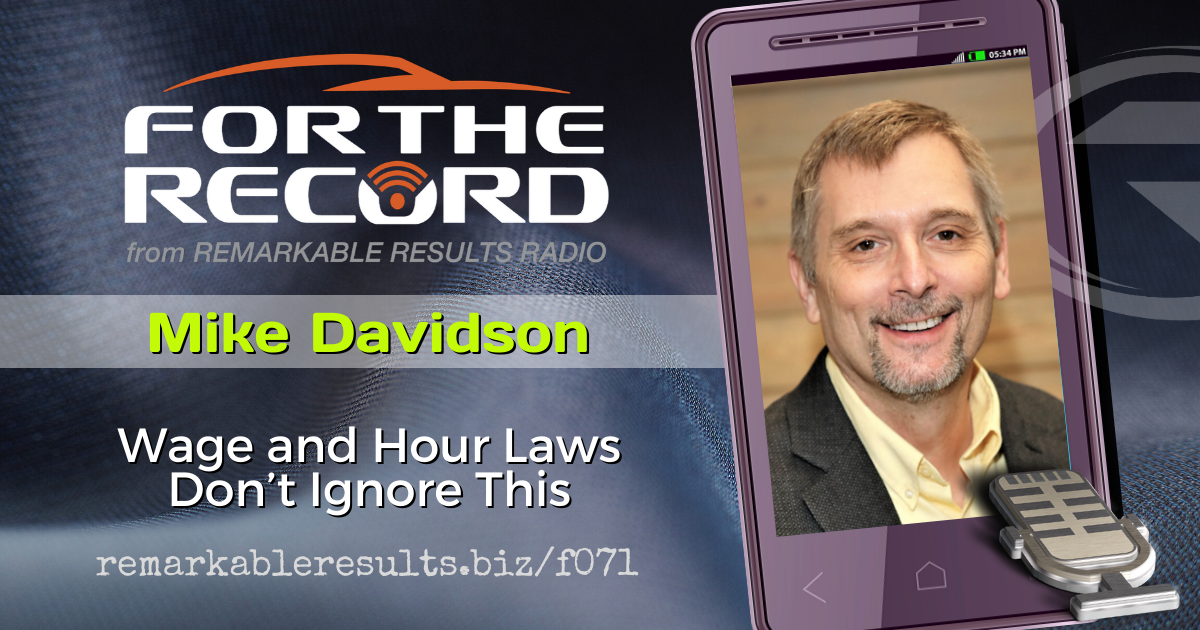 Mike Davidson is from Parkway Automotive in Little Rock, Arkansas, been in the industry for more than 30 years and a business owner for over 18. Mike is an AMI graduate, an ASE Master Technician, he belongs and contributes to Elite Worldwide and was recognized as the Arkansas NAPA/ASE tech of the year seven years in a row.  He's been doing radio and TV over the last fifteen years talking 'service' in Little Rock. Mike helped start the Little Rock chapter of ASA and is currently an officer. Look for Mike's other episode HERE.
Link to Episode 466, In-depth on Wage and Hour and discussion on his Wage and Hour Book HERE.
Key Talking Points:
Shop owners can get audited by the Department of Labor

Wage and Hour issues are very real and must be understood

Mike sites information from an article from Dennis McCarron showing the types of penalties from non-compliance to wage and hour laws. He shares the numbers: $342,926, $306,000, $174,400, $76,000

Careful with your own interpretation of wage and hour exemptions.

Keeping your costs down can happen in other ways than in shortcuts on how and what you pay your people

Mike wrote a book on wage and hour compliance. 

Listen podcast 466 in detail on wage and hour with Mike. Link above.
---
A special thanks to Mike Davidson for his contribution to the aftermarket.
Books mentioned in the content library HERE
Mike Davidson Episode 466 HERE
Leave me an honest review on iTunes. Your ratings and reviews really help and I read each one of them.
Email Carm HERE.


Be socially involved and in touch with the show:
Facebook   Twitter   Linked In   Email    Events   Instagram   Speaking
Subscribe to a free mobile listening app HERE.
Love what we do? Love what you hear? Buy Carm a cup of java. He loves his coffee.

---
This episode is brought to you by FlexCheck Auto Digital Vehicle Inspection Software.
Savvy shop owners use vehicle inspections to find additional work on a vehicle that the vehicle owner may not know is needed. The most successful shop owners fully inspect every car, every time. It benefits the vehicle owner more than the shop because most vehicle

owners want their autos to be reliable.
FlexCheck Auto takes the power of a shop's inspection process and puts it in the palm of your technician's hand so that pictures, video, and vehicle specific notes about a vehicle's condition can be shared quickly with vehicle owners. It improves technician efficiency in the bays, service writer efficiency at the counter, increases average repair order and builds trust with vehicle owners.
Today's vehicle owners want to receive their vehicles health status electronically, this makes FlexCheck Auto the most transparent way to do sell auto repair. Try it for free for 30 days! Go to FlexCheckAuto.com to learn more.