Transforming Lives One Bike at a Time: The Impact of Philanthropy [THA 342]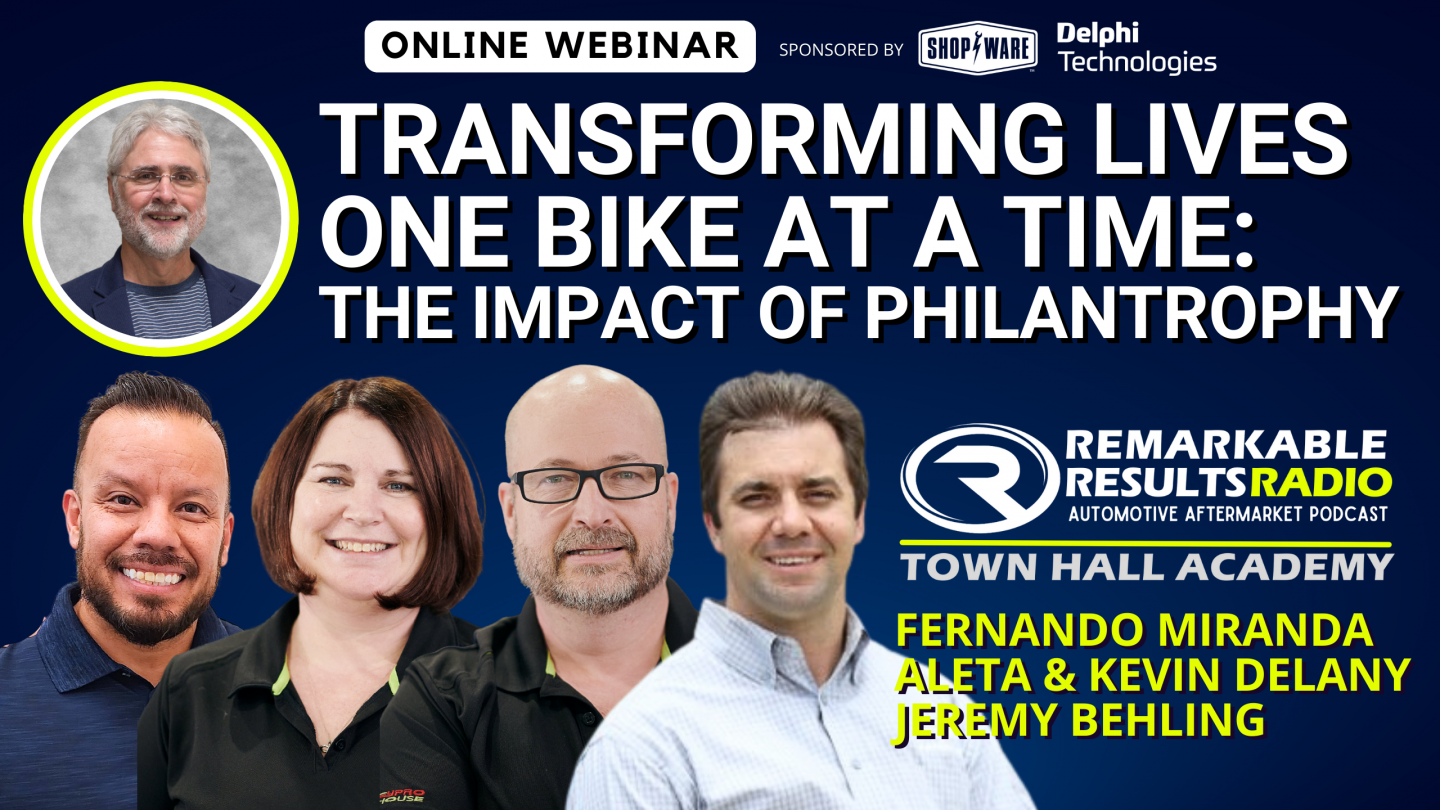 Fernando Miranda, Aleta and Kevin Delaney and Jeremy Behling discuss their participation in the Transformers 2022 Summit in Cancun, where they took part in a team-building "Build a Bike" activity. The panel share heartwarming stories of giving bikes to local students in need and sponsoring their education. They emphasize the importance of philanthropy and how it can have a positive impact on both the community and business. Carm encourages listeners to have a giving heart and take action to help others. The episode aims to inspire listeners to make a positive impact in their own communities.
Fernando Miranda, VP Transformers Institute
Kevin and Aleta Delany, Europro Autohaus, Kelowna, Canada
Jeremy Behling, Yampa Valley Tire Pros, Steamboat Springs, CO
Show Notes:
Paying it Forward and Philanthropy (00:01:16) The panel discusses the importance of giving back to the community and highlights the Build a Bike program at the Transformers conference in Cancun.
The bike donation and meeting the students (00:08:14) Describes the emotional experience of giving bikes to students and the impact it has on their lives.
Finding out about the student's college plans (00:09:10) Discusses the conversation with the student about her plans to become an accountant and the potential for future opportunities.
Matching the donation and sponsoring the student (00:11:46) Explains how Jeremy matched the donation made by the Transformers team and how Aleta and Kevin sponsored the student directly for four years of college.
The importance of giving back (00:17:41) Discussion on the motivation behind philanthropy and the impact it has on individuals and communities.
Financial success vs. helping others (00:19:00) Exploration of the fulfillment and positivity that comes from helping others, even if it may have a negative impact on financial success.
The power of giving first (00:21:30) Personal experience of how giving back and donating money led to a positive shift in cash flow and overall business success.
The universe taking care of you (00:27:38) Exploration of the belief that giving to others leads to receiving from the universe.
Challenging listeners to make a difference (00:28:46) Encouragement to take action and make a positive impact in their communities.
Thanks to our Partners Shop-Ware and Delphi Technologies
Shop-Ware: More Time. More Profit. Shop-Ware Shop Management https://getshopware.com/
Delphi Technologies: Keeping current on the latest vehicle systems and how to repair them is a must for today's technicians. http://DelphiAftermarket.com
Connect with the Podcast
-Join our Insider List: https://remarkableresults.biz/insider
-All books mentioned on our podcasts: https://remarkableresults.biz/books
-Our Classroom page for personal or team learning: https://remarkableresults.biz/classroom
-Buy Me a Coffee: https://www.buymeacoffee.com/carm
-The Aftermarket Radio Network: https://aftermarketradionetwork.com
-Special episode collections: https://remarkableresults.biz/collections