Keeping Your Shop Floors Clean – Why and How [CC 088]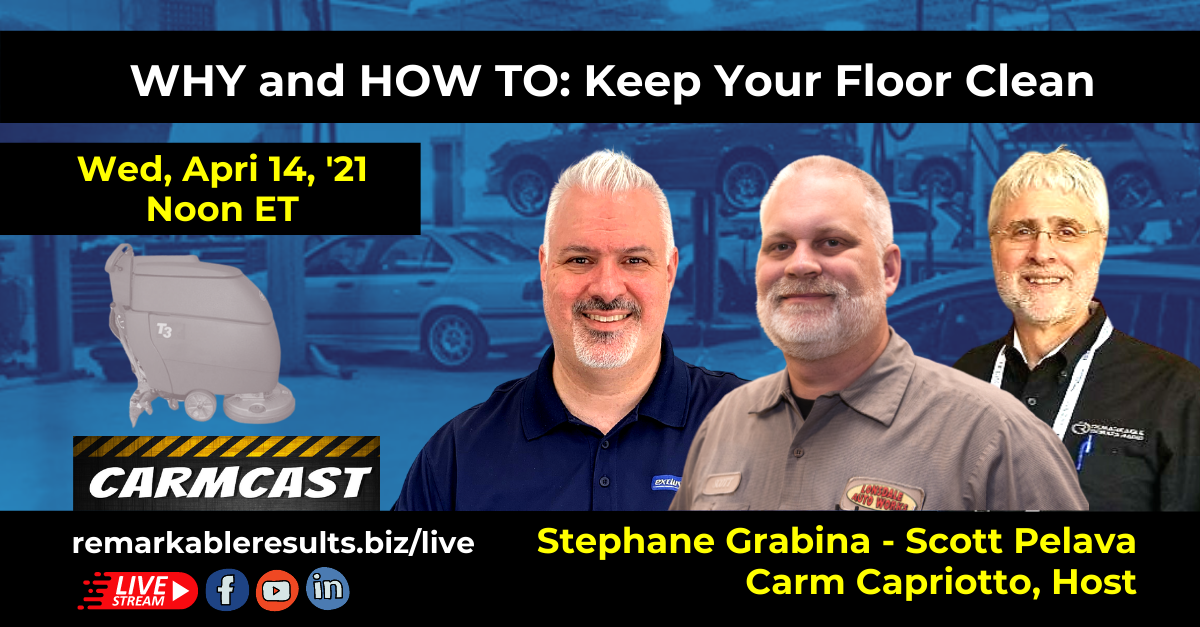 Stephane Grabina, BMW Excluservice, Rockville, MD, and Scott Pelava, Lonsdale Auto Works, Lonsdale, MN share the reasons they keep their floors clean. They use a commercial floor scrubber. Learn how and why these two successful shop owners have invested in keeping their shop floors clean.
Comment from Kevin Eckler:
Great episode and I loved the promoting of a clean shop. We picked up two 5-year-old floor scrubbers and a floor burnisher made by minute man that retails for almost $10000 apiece through an auction where a local school was updating their equipment. We paid less than $300 per machine and the only expense that we had was to install new batteries. They all work absolutely fantastic and it was a great deal. The toughest thing was finding a place to store them but they get used very frequently and the floors are significantly cleaner than the shop feels brighter and the guys have a better attitude because of it.
Things to consider when purchasing a floor scrubber Is to find out the proper kind of soap to use to clean your floors and what to do with the wastewater when you are done so that you are not polluting when you dispatch the dirty water. Certain soaps break down the oil too fine to be caught in an oil-water separator and oftentimes there is a large amount of sediment that collects into the machine when you are done. Emptying the machine into a smaller holding tank to separate off the settlement and the oil and then dispensing the water from there helps to not unknowingly polluted the local water sources and get yourself in legal trouble. Just something to consider. ~Kevin
Link to the 'BOOKS' page, highlighting all books discussed in the podcast library HERE. Leaders are readers.
Listen for free on Apple Podcasts, Google Podcasts, Spreaker, iHeart Radio, Spotify, Podchaser, and many more. Mobile Listening APP's HERE
Find every podcast episode HERE.
Every episode is segmented by Series HERE.
Key Word Search HERE.
Be socially involved and in touch with the show:
Facebook Twitter Linked In Email
Join the Ecosystem – Subscribe to the INSIDER NEWSLETTER HERE.

Are you seeing auto shops in your area get hundreds of 5-star Google reviews and are you feeling left behind because your shop only has a few?
Hey look, Broadly is your answer to getting more online reviews. With more reviews, your business will rank higher in search results — and that means more customers coming into your shop every day.
Broadly helps you automatically request reviews so that your customers can promote your business with just one click.
When you immediately ask for a review after service, when the experience is still fresh in their mind, // you're more likely to get a 5-star positive review.
Plus, asking for feedback makes your customer feel valued and more connected to your business. Isn't that what you want a connected customer? See how Broadly can help grow your auto shop. Visit www.getbroadly.com/carm to learn more.