PAVE Virtual Training [CC 100]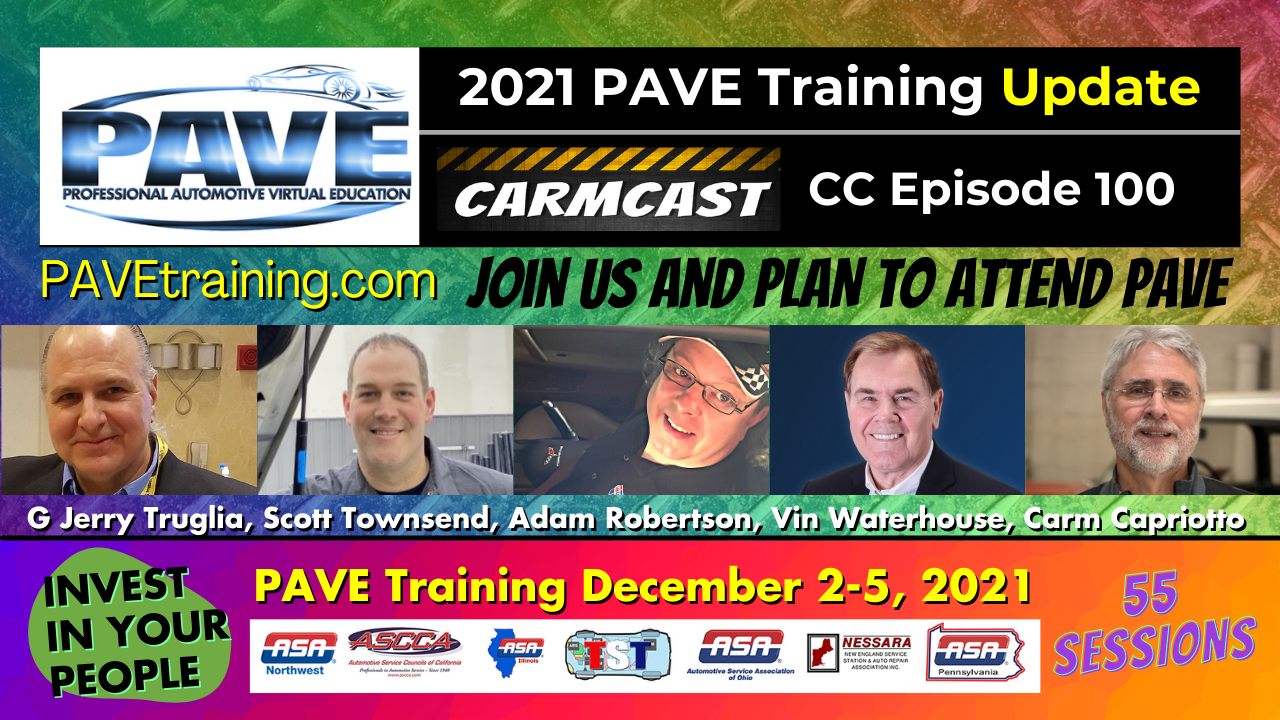 Key Talking Points
Replay virtual training classes up to 30 days
Importance of management classes- owners need to understand business
Shops are a team as one unit and everyone needs to be on board
Why PAVE- top instructors, an opportunity for technicians to take classes and review management training. Teaching big think and multi approaches to vehicles to avoid tunnel vision
Average shop profit 3%, sales increase 12%, labor rates
Standard labor rates- based on different skill levels per technician, labor intensive rates (EV), diagnostic rates
The best resource and tool is your brain
Training doesn't cost, it pays 10 fold
People are the best learners during the day- 1 day a month for training, "don't do junk work when you're tired"
Connect with the show:
"G" Jerry Truglia is a ASE World Class Technician, ASE Triple Master Technician in: Automotive, Truck & School Bus, L1, L3, X1, CNG, and C1; as well as an ATTP Master Instructor in New York State, CT and New Jersey. "G" is recognized by the US Environmental Protection Agency as one of the foremost OBD II experts, technicians, and trainers in the country. He achieved National Institute for Automotive Service Excellence (ASE) certification, won a golden wrench award, and is one of the 1900 ever to be certified as a "World Class Technician". He provides technical material, is an author and technical advisor for the New York automotive technology training program and has authored numerous books and magazine articles. "G" also provided automotive training to the United States Marine Corps in Okinawa, Japan. He has also worked for Peugeot in France, ATRA in Australia, ASA, ASACA (Instructor of the Year Award – 2 years), ASAKC, and many colleges/trade schools in addition to providing Train the Train to instructors for ATC, Lincoln Tech, UTI, Ohio Diesel, and others. G Jerry Truglia Previous Episodes HERE
Scott Townsend ASE Certification(s): A1-A9 Master Certified L1 and L3 Advanced Level Certifications with 19 Years experience and Six Years as an Autotech Instructor. He is experienced in  Automotive Diagnostics, Programming, and Coding for Gas, Diesel, Hybrid, and E.V.
Adam Robertson has 37 years and continues as an automotive technician/instructor, beginning his automotive career in the early 1980s. He has owned/operated his own automotive repair and training facilities since 1991. Beyond standard auto/truck diagnostics and repair, he has spent many years working with high-performance vehicles. Adam has enjoyed performing dyno tuning/programming and other auto racing support, competing in several types of "grassroots" style local motorsport racing events. Adam has been training for CARQUEST Technical Institute since 2000 and continues educating 23 full regions in the Western United States with nearly 800 hours of presentation material, while still squeezing in several "hands-on" training events, each year. A regular training fixture at many national automotive training events each year, Adam has also authored as an SME numerous pieces of the training curriculum. He has what has been considered a "contagious" teaching style with incredible amounts of energy and passion.
Vin Waterhouse is the president and founder of The Waterhouse Group, (TWG), an automotive Accounting, Training and Coaching company. Vin has over thirty years of experience in the automotive aftermarket and has written several manuals on asset management. His specialty is working with auto repair shop owners. He has written magazine articles and authored private label courses for NAPA and others in the aftermarket. Vin has conducted hundreds of profit management seminars and workshops for auto repair shop owners, auto part store owners, and parts distribution management teams across the United States. He is a pioneer in his field and author of "The Labor Factory" and the "NAPA exclusive AutoCare Financial G.P.S." Listen to Vin's other episode's HERE.