Brakes For Breasts – 2023 Update & Challenge [CC 110]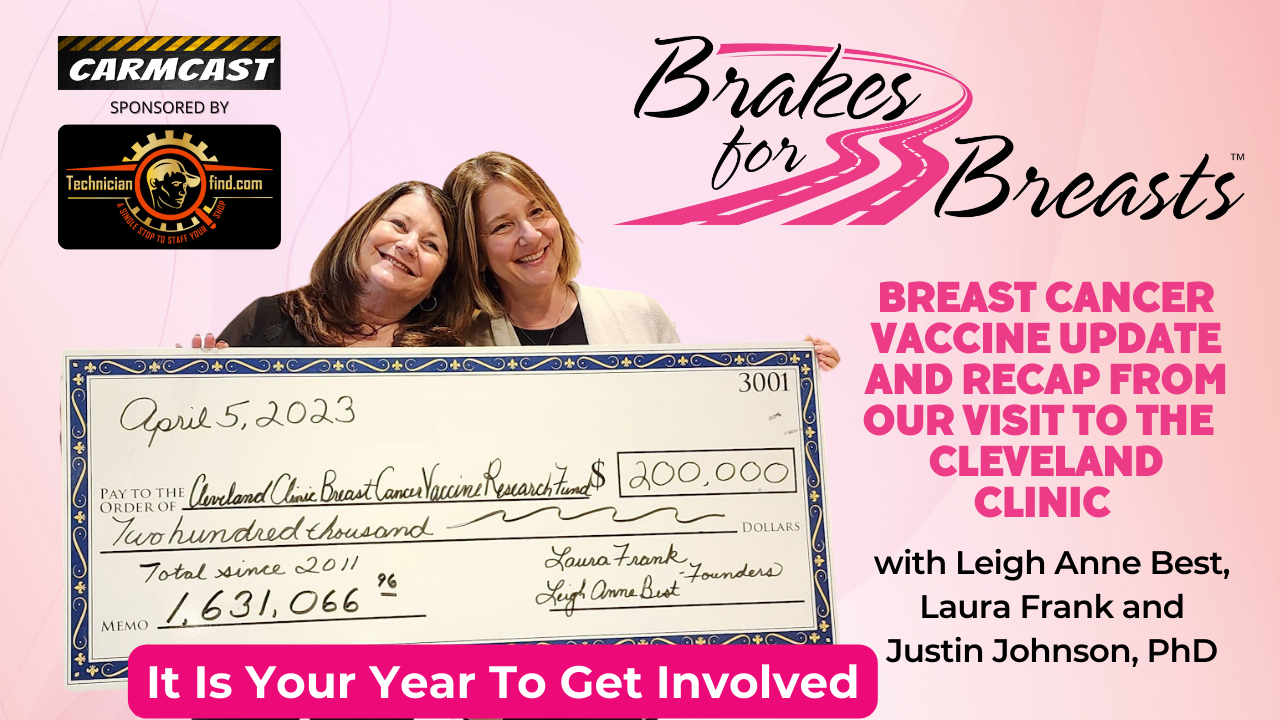 Exploring the Brakes for Breasts Campaign: Raising Funds for Breast Cancer Vaccine Research at the Cleveland Clinic
The Brakes for Breasts campaign, every October, supports breast cancer vaccine research at the Cleveland Clinic. The co-founders of the campaign, Leigh Anne Best and Laura Frank, discuss the importance of finding a cause that aligns with their values and the challenges of funding vaccine research.
Justin Johnson, PhD, provides updates on the progress of the clinical trials for the vaccine.
Our panel discusses the success of the campaign and its goals for the future, encouraging independent repair shops to participate and donate 10% of labor and parts for brake jobs. They also emphasize the impact of the campaign on cancer research and encourage listeners to get involved.
We are challenging the industry to reach a goal of $369,000 or even $400,000 for the next year and to involve at least 500 shops. This is a simple and effective program to offer to your customer and to anyone involved to tour the lab and see the impact of their contributions.
Prevention is the Cure – Brakes For Breasts
---
Thanks to our Partner, Technician Find.  If you are tired of struggling to find skilled automotive technicians for your independent auto repair shop,  say goodbye to the endless search and let Technician Find be your solution. We are a 'Single Stop To Staff Your Shop.' Click Here for Technician Find
Connect with the Podcast:
-Join our Insider List: https://remarkableresults.biz/insider
-All books mentioned on our podcasts: https://remarkableresults.biz/books
-Our Classroom page for personal or team learning: https://remarkableresults.biz/classroom
-Buy Me a Coffee: https://www.buymeacoffee.com/carm
-The Aftermarket Radio Network: https://aftermarketradionetwork.com
-Special episode collections: https://remarkableresults.biz/collections