The First Breast Cancer Vaccine Trial Recipient: Jennifer Davis [CC 111]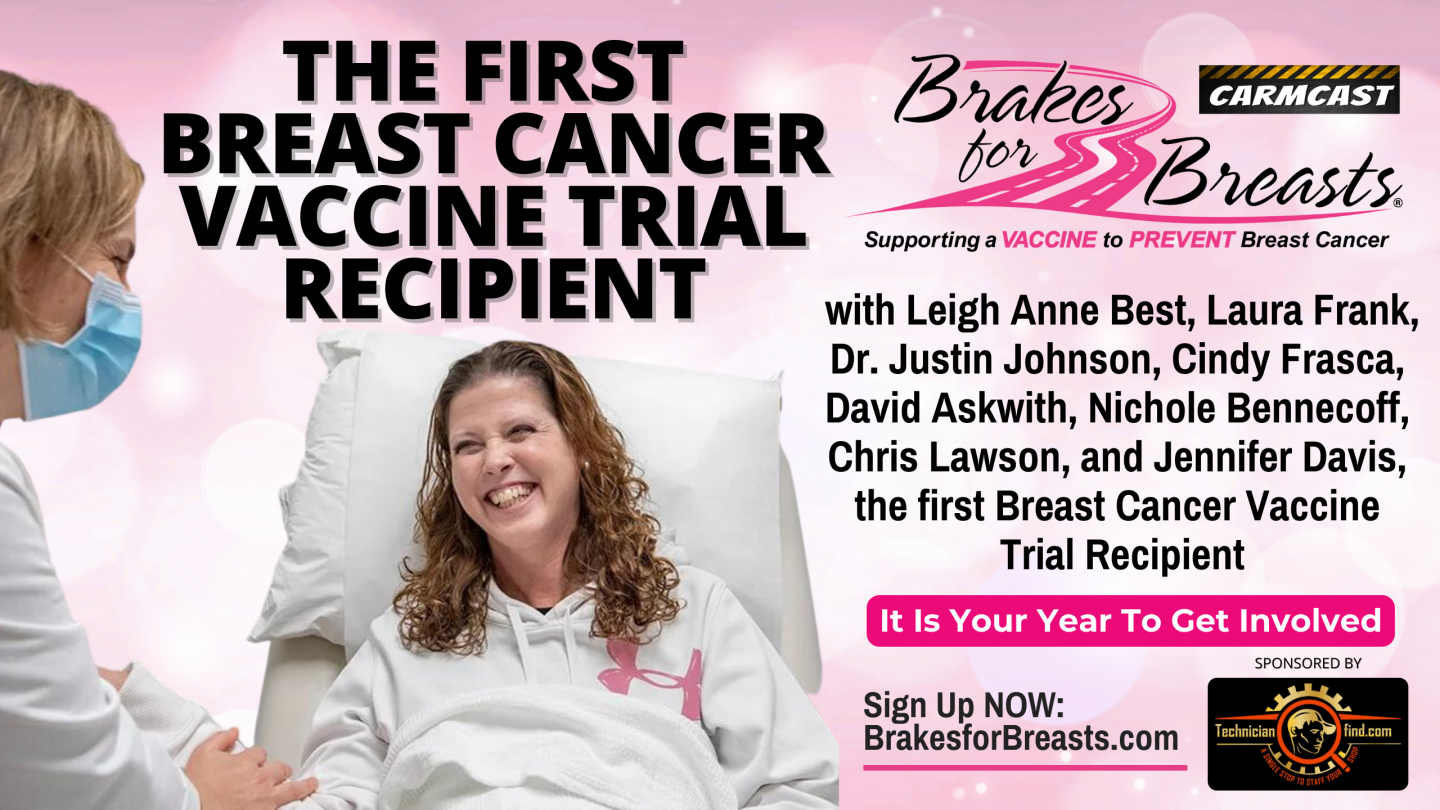 The Brakes for Breasts campaign, every October, supports breast cancer vaccine research at the Cleveland Clinic. The co-founders of the campaign, Leigh Anne Best and Laura Frank, discuss the importance of finding a cause that aligns with their values and the challenges of funding vaccine research. They discuss the initiative and how it raises funds for breast cancer research by offering free brake pads to customers in October. Dr. Justin Johnson from the Cleveland Clinic talks about the importance of a vaccine trial for triple negative breast cancer. Jennifer Davis, the first recipient of the vaccine trial, shares her experience. Our panel emphasizes the importance of community support and the potential of the vaccine trial to revolutionize cancer treatment.
We are challenging the industry to reach a goal of $369,000 or even $400,000 for this year and to involve at least 500 shops. This is a simple and effective program to offer to your customer and to anyone involved to tour the lab and see the impact of their contributions.
The start of the Brakes for Breasts initiative (00:01:11) Introduction to the Brakes for Breasts initiative and the goal of raising $400,000 and getting 500 shops signed up.
Explanation of the Brakes for Breasts program (00:06:24) Explanation of how the program works, including giving customers free brake pads and donating 10% of the brake job cost to the Cleveland Clinic breast cancer research program.
The lab tour and check presentation (00:08:48) Discussion about the visit to the Cleveland Clinic lab and the check presentation for breast cancer research.
Jennifer's experience with the breast cancer vaccine trial (00:10:55) Jennifer shares her experience as the first recipient of the breast cancer vaccine trial, including the side effects and her motivation to participate.
The importance of getting involved (00:16:55) Discussion about the enthusiasm and commitment of automotive repair shops to participate in the Brakes for Breasts campaign.
Ways to support the campaign (00:17:22) Information about the resources available on the campaign's website to help shop owners engage their vendors and promote the campaign.
The importance of early treatment (00:25:22) Discussion about the delay in treatment and the potential impact it had on the recipient's ability to participate in the vaccine trial.
The impact of the vaccine on the recipient's perspective (00:26:00) Jennifer Davis shares how receiving the vaccine has shifted her perspective on life and given her hope for the future.
---
Thanks to our Partner, Technician Find
If you are tired of struggling to find skilled automotive technicians for your independent auto repair shop, say goodbye to the endless search and let Technician Find be your solution. We are a 'Single Stop To Staff Your Shop.' http://www.technicianfind.com
Connect with the Podcast:
-Join our Insider List: https://remarkableresults.biz/insider
-All books mentioned on our podcasts: https://remarkableresults.biz/books
-Our Classroom page for personal or team learning: https://remarkableresults.biz/classroom
-Buy Me a Coffee: https://www.buymeacoffee.com/carm
-The Aftermarket Radio Network: https://aftermarketradionetwork.com
-Special episode collections: https://remarkableresults.biz/collections