RR 112: Randy Baker – ASE/NATEF Industry Education Alliance Educator of the Year 2015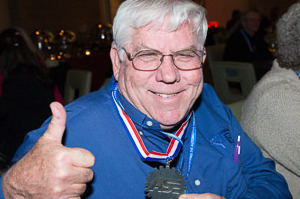 Randy Baker named the Byrl Shoemaker/ASE Industry Education Alliance Instructor of the year in 2015 by National Automotive Technicians Education Foundation (NATEF). Randy and 33 others received this top honor and once you hear this interview you will find out why.
His Career Path.
Randy owned his own shop for 14 years before being romanced by the former shop owner to start a new career in education. As an instructor for EVIT, the East Valley Institute of Technology he teaches the Engine

and Cooling curriculum.  There are three other automotive instructors in the program. You'll hear the passion he has for engaging students in careers in technical education. His own career path, he says, came from a fundamental result of having gone to shop class in junior high.
Why Listen:

Appreciate Randy Baker for helping one student at a time see the potential in a career in automotive repair

Learn what every aftermarket player can do to drive more students to careers in technology fields, especially automotive.

Get Randy's impassioned view on the impact of interning and shadowing programs on these young students.
How You Can Help?
Randy Baker needs you to engage with every high school and college level learning center and get on their advisory boards. He says you've got to speak to principals, counselors and parent groups. The aftermarket needs to be more involved. Be a judge at your local schools next USA Skills contest or be a guest speaker. The job opportunities in our $320B industry include professional skilled technicians right up to outstanding jobs in automotive parts manufacturing. Involvement is a big message from Randy Baker.
What Else?
Learn what Randy Baker would tell a parent who has a child that is a hands- on person. He also says: "Students need to find their passion. Every scholar needs a skill. Turn your passion into a paycheck."
Link to NATEF recognition here.
Link to article from Modern Tire Dealer here.
Link to East Valley Institute of Technology (EVIT) here.
---
This episode is brought to you by Federal-Mogul

Motorparts and Garage Gurus. With brands like Moog, Felpro, Wagner Brake, Champion, Sealed Power, FP Diesel and more, they're the parts techs trust.  For serious technical training and support – online, onsite and on-demand – Garage Gurus is everything you need to know. Find out more at fmmotorparts.com  and fmgaragegurus.com