RR 208: Business Coach Round-Table -Greenwood – Haas – Barrett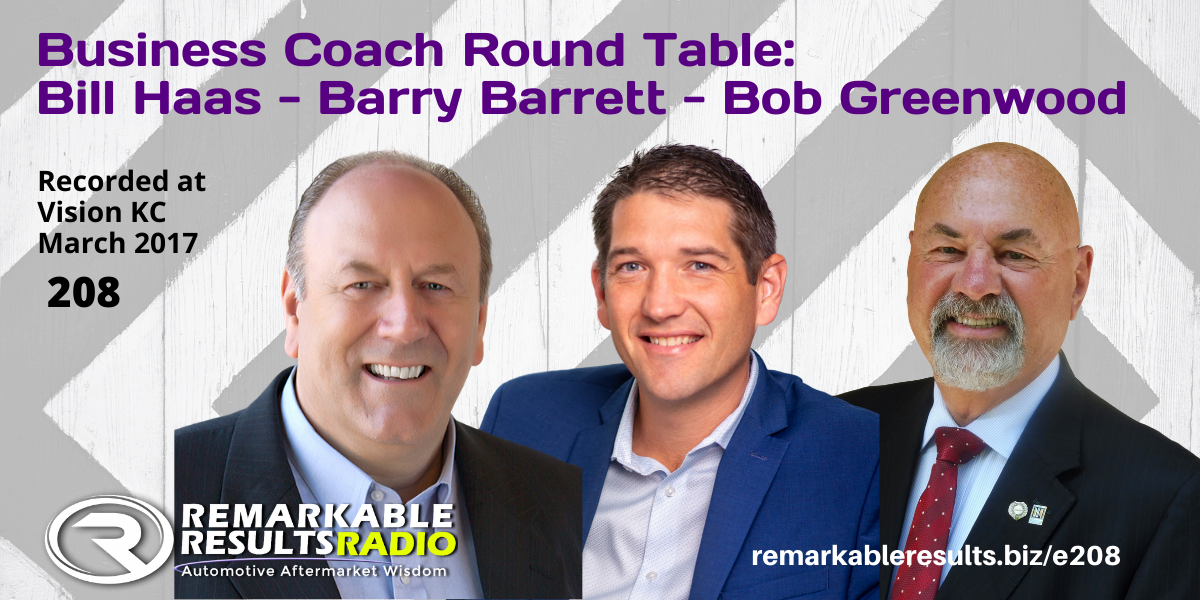 When recorded at Vision 2017 in KC, I had the honor to have Bill Haas, Bob Greenwood, and Barry Barrett (shown above) in studio to discuss business coaching. The episode went places I had not anticipated, except I knew that these guys were capable to talk about anything and everything.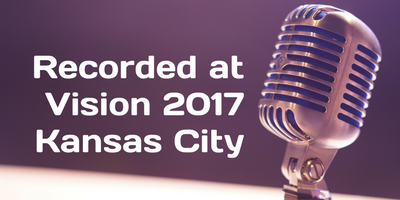 I encourage every member of the aftermarket to invest the time in this episode. No matter if you are the owner of a professional shop, a service writer or manager, a technician, a supplier salesperson, a member of the distribution channel, manufacture or association exec (sorry if I missed your role), you need to listen. The lessons being shared are important to hear and understand.
Just a few talking points brought up in this interview:
Change yourself from a technician to a full-fledged CEO. It is something you have to learn how to do.
The service business is a professional job, not a trade job.
Techs learn great skills to be a top diagnostician; however, they don't spend the time to learn to be the owner (CEO).
Many struggling service professionals do not have an accountability partner.
People want happy, healthy, prosperity, security, family, good friends, hope for the future, love, be loved and peace of mind.
To find your talent, find the stress in your life and work to reduce or remove them.
Stop being the person that does all the work. We pay people to do that. Your Role is to provide the tools.
You must find the trust in your team in order to get them to achieve your goals.
When you wake up in the morning do you ask yourself 'I cannot wait to be managed today'.
Why can't the business be structured to run Mon- Fri and 8 – 5? If you can't make it in five days there is a problem.
Lousy home life, lousy business life.
Every 3 minutes we get distracted. It takes 11 minutes to get refocused.
"Leadership is the hardest thing to do, why are you doing it alone". Simon Sinek
Every successful business person has had a mentor in the background.
You need a sounding board. It is nothing to be embarrassed about.
We've all learned from our mistakes. The trick is to not make them again.
If you make the same error twice it is a mistake.
Challenge each other, including your competitors, to lift your game.
Learn to compete so you all can be at the best level that you can possibly be.
Shop owners get in the way of training a service adviser.
Having the wife on board is a very important element for good coaching opportunities.
Business consultants are the cheapest employee in the business.
Bob Greenwood, AAM
Robert (Bob) Greenwood AAM (Accredited Automotive Manager) is President and CEO of Automotive Aftermarket E-Learning Centre Ltd. AAEC is a company focused on providing Business Management Resources and Development for the Independent Sector of the aftermarket industry.
Bob has over 40 years of Business Management experience within the Independent sector of the automotive aftermarket industry in North America, consulting independent retail shops on all facets of their business operations.
Bob is one of 150 worldwide AMI approved instructors. He has created Business Management development courses for automotive shop employers/managers, which are recognized as being the most comprehensive, industry-specific courses of their kind in North America.
On November 4th, 2003 during Automotive Industry Week in Las Vegas Nevada, in recognition of his contributions to the automotive aftermarket industry, Bob was the first and is the only Canadian Business Management Consultant to be presented the very prestigious Northwood University Automotive Aftermarket Management Education Award for 2003 by Dr. David E. Fry, President of the University. "This award is presented to individuals in the automotive aftermarket field who have made noteworthy contributions to education. Recipients are people of stature and the award is recognition of dedication over a number of years to the educational process and the field of Automotive Aftermarket. The award is unique in that it is the only education award of its kind in the industry".
On November 23rd, 2012, Bob was one of 37 Canadians out of the 400,000 people within the Canadian automotive industry honored by the Governor-General of Canada and awarded the prestigious Queen Elizabeth II Diamond Jubilee Medal. "This medal honours significant contributions and achievements by Canadians. To be eligible for this honour, a person must have made significant contribution to a particular province, territory, region or community within Canada, or an achievement abroad that brings credit to Canada. It is presented to automotive aftermarket industry professionals who have distinguished themselves as highly respected by community and industry leaders."
Hear Bob and I in his one-on-one interview, released SEP 2015, Episode 49. Bob also joins in on the 200th retrospective. Bob is also on a Town Hall LIVE on Preparing Your Business For Sale
Aftermarket E-Learning Centre Ltd. Bob Greenwood
Bill Haas, AAM
Bill Haas is the owner of Haas performance consulting LLC, with 40 years of experience in the automotive service and repair industry.
Clients have access to Bill's solution-based focus, expertise, unique perspectives and in-depth knowledge of the industry. Services available include business management seminar development and delivery, keynote presentations, business consulting, performance coaching, and strategic planning facilitation.
Bill began his career working part-time at a full-service gasoline station in Appleton, Wisconsin. His career includes time as a technician, shop owner, technical trainer and most recently on the staff of the automotive industry's oldest and largest association representing automotive service and collision repair businesses. While at the association, Bill had the opportunity to work with all segments of the industry. His knowledge of the industry has been shared on many occasions as he has been invited to speak at numerous industry events as well as providing testimony at hearings of the US Congress and several state legislatures on important legislation and regulation affecting the automotive industry. Bill received the accredited automotive manager (AAM) credential from the automotive management institute in 1996 and has been a member of the automotive management institute's faculty since 2002.
Bill is also the business manager of NACAT: the North American Council of Automotive Teachers. Listen to our one-on-one interview released April 2016, episode 106 here and also join Bill on the 200th retrospective.
Barry Barrett
Barry Barrett, is an authority on sales and selling. He is the Director of Training for RLO.
For fifteen years, Barry has been in sales. This has allowed him to converse with many different people which is his passion. He loves talking with people and he loves listening to people. Barry's background was dedicated to the automotive industry for four years when he thrived as a Service Adviser. During this time, Barry mastered the skills necessary for a good service adviser: communication, patience, and of course more sales!
Barry joined the RLO Training team in 2014, and he loves it! Barry is a salesman as well as the trainer for the RLO Front Line Impact Groups. These positions allow Barry to serve people, which he loves.
During Barry's career as a Service Manager and top sales person, he honed his talents in communicating with people. Barry is tireless in his pursuit of excellence in the automotive industry and in all that he does. His passion for providing tools to train owners and their teams to the next level is unlimited.
Barry's great passions are his family: wife Nancy and their two children and golf. Barry is a certified Ziglar Coach.
Listen to Barry with me one-on-one, released in June 2016, episode 130. Barry also was part of the 200th retrospective. Barry also contributed to a Town Hall LIVE on Resolutions 2017.

Be socially involved and in touch with the show:
Facebook Twitter Linked In Email
This episode is brought to you by Federal-Mogul

Motorparts and Garage Gurus. With brands like Moog, Felpro, Wagner Brake, Champion, Sealed Power, FP Diesel and more, they're the parts techs trust. For serious technical training and support – online, onsite and on-demand – Garage Gurus is everything you need to know. Find out more at fmmotorparts.com and fmgaragegurus.com