RR 235: Tom Piippo from Tri-County Motors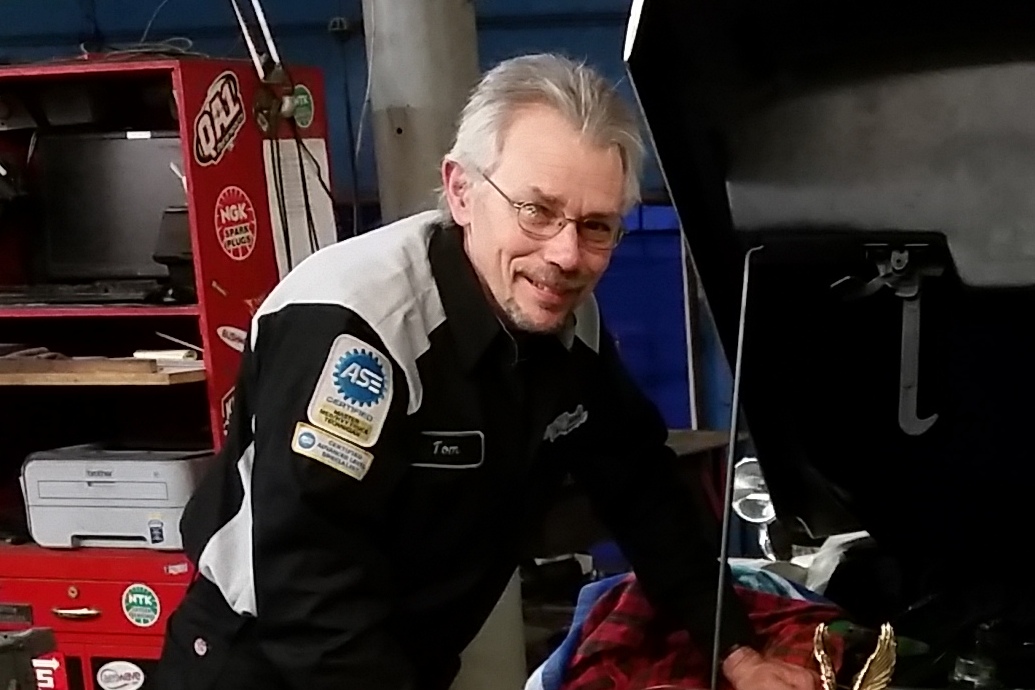 Tom Piippo was raised in Rudyard, MI where he still lives.He and his wife Kris have owned Tri-County Motors for the last 39 years. Rudyard is a small town; the Post Office boasts 491 customers.
Where it all started.
Tom started collecting hand tools when he was 10 years old and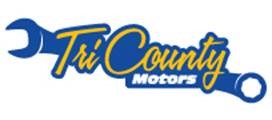 was fascinated with taking apart the family lawnmower. His mother would scold him to have it put back together before his father came home… it usually worked when he was done with it. In high school, Tom dreamed of a career in auto repair, and maybe someday of running his own shop.  His father always told him "Love what you do and you'll never work a day in your life".  He says. "I really don't feel I've "worked" very many days!"
Post Secondary.
Tom graduated from Ferris State (College) in 1975 with a degree in Automotive Service technology.
ASE.
In 1975, Tom took and passed all 8 NIASE (National Institute of Automotive Service Excellence (ASE)) certification tests. He became a Certified Master Automotive Technician and has since added ASE Certified Master Heavy Truck Technician, L1, L2 Advanced Engine Performance, Certified Parts Specialist, and Certified Service Writer. All his certifications are current.
Honors.
Tom was chosen as a NAPA/ASE Tech of the Year finalist in 1994, but was not a National winner. However, in 1999, he was honored as the Snap-On/ASE Technician of the Year and was honored in Scottsdale, AZ, with his family at the ASE annual awards banquet.
In 2005, Tom was chosen to receive a national award, the ASA (Automotive Service Association)/ASE Tech of the Year, and traveled to Las Vegas to accept the award. Again, in November 2009 Tom was honored as the Snap-On/ASE Tech of the Year Award.
In 2004, Tom was honored as the Auto-Value group's "Top Gun" Technician of the year. This regional event accepted automotive technicians from all of Michigan as well as several surrounding states. He went on to receive top honors again in 2006 and 2008.
In 2017, Tom received the ASA's Alpha Award, recognizing an ASA Mechanical Division member for his or her generous and far-reaching contributions to the automotive service industry. This is a top honor given to one individual nationally and is voted on by his peers.
Supporting Education.
Tom served on a committee to certify the Sault High School Automotive program with NATEF, a certification needed for state funding. He also served on a committee several times with ASE writing new certification test questions & reviewing current test formats.
The Big Move.
In 1977, he married Kristine and they opened Tri-County Motors in 1978; as Tom says, "He was 21 years old, too young to know any better."
Community.
Tom has been active as a Cub Scout leader, Scoutmaster, Lions Club past president and currently serves on the local Community Foundation as Vice President. Tom was board of director for ASA Michigan. He also served on the Mechanical Operations Committee for both ASA Michigan and ASA National.
He is president of the local Business Development Group. Tom taught Auto Repair for Community Schools adult education.
Family.
Tom has been married for 39 years and has two children, Tim & Becca. He and Kris also have seven grandchildren.
The Business.
Tri-County Motors is equipped to handle most anything that rolls in the door, from Alpha's to Windrowers. Tom and Kris instill a caring, learning culture within the business. Employee's know that training is mandatory when they are hired. Attending all local training events is required along with most major state and national training events.
Training.
The team takes a long lunch hour every Wednesday for training. Tom supply's lunch, holds a shop meeting along with an hour for some video training. While collecting training material for years, Tom found that no one wanted to take the time at home to watch it (he really can't blame them). So now the team watches the training at work while enjoying lunch.
Conditioning.
When Tom's children were in high school sports, he realized that his physical prowess was not what it used to be. He began running, biking, swimming and skiing for fitness and soon began competing in local events. Tom found that he excelled in triathlon and has since completed more than 100 triathlons and 5 Iron-man distance events (2.4-mile swim, 112-mile bike, 26.4 mile run).  His best finishing time was 10 hours, 45 minutes.
Stress Relief.
Kris and Tom enjoy traveling, camping, and hiking. They collect and drive interesting cars. They have 4 Ford Mustangs in the garage, from 1964 to 2005, and an Austin Healey inspired roadster that he built from the wheels up.
Key Talking points:
Recently hired a service adviser from outside the industry
He's driven to be the top, the best, at what he does. He did it via education and information.
They practice cost control and keep a critical eye on 'Creep'; those small incremental additions you pay vendors.
The power of networking
He is growing his own technician. Learn where he found his latest technician hire.
ASA member
DVI implemented.
Lot of talk about getting into business but no one is telling Tom how to get out of business.
Shop Profile
Be socially involved and in touch with the show:
Facebook   Twitter   Linked In   Email
---