RR 280: Eric Svedberg and Rex Cate from Automotive Specialists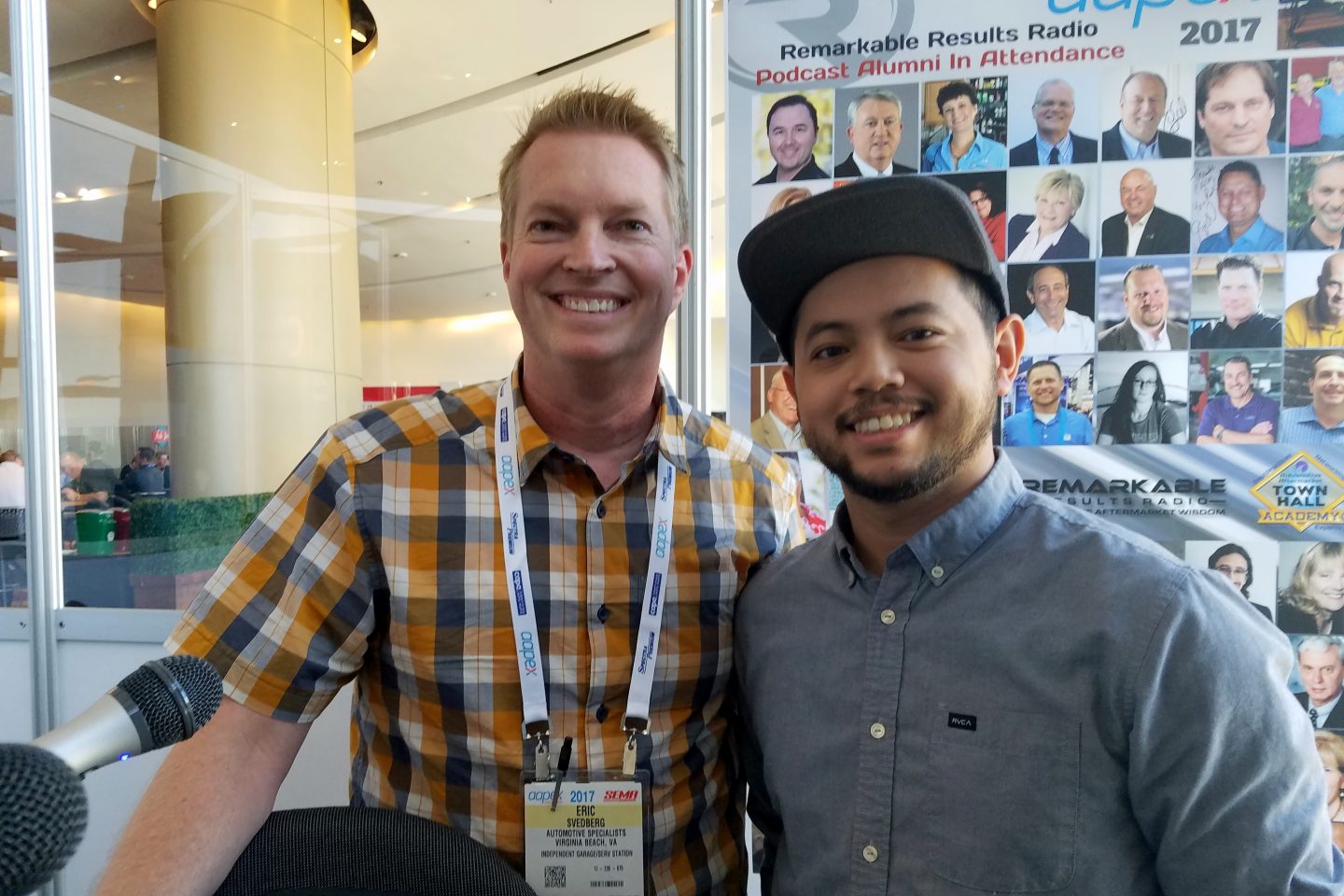 In the photo above Eric Svedberg and Rex Cate.
Eric Svedberg from Automotive Specialists in Virginia Beach, VA joined Rex Cate, his 'Grow Your Own' millennial technician, in the AAPEX 17 Studio. This is a wide-ranging interview on Eric's training for Rex to bring him the support and education he needs to be a high-level diagnostician.
This was a fun interview as we debunked the millennial stereotype and provide a blueprint for your own grow-your-own technician integration program.
Eric is adding another shop and Rex will get more opportunities to expand his knowledge and experience.
Talking points:
Rex had started to work for a Dealership right after he worked for Panera.
When Rex interviewed, he was impressed with Eric's shop.
Eric set out to find a tech he can grow.
He found Rex in an unusual circumstance. You may never know when opportunity calls.
Rex is 24 years-old and has been with Eric for four years.
Eric says Rex is solid with brakes and mechanical
Working on drivability as his next frontier of training.
Eric looks at the big picture of the shop when it comes to a job he is qualified for.
Rex is training via videos, a minimum four hours a month, and most months he exceeds it. He does his training at home.
The shop's "A" Tech is willing to show Rex how instead of just doing.
Eric believes you need to show your young technician a vision for their opportunities in your shop.
Rex is always looking at the big picture and thinking like a business owner.
Young people need to find their passion, their why and pursue what they love to do. Your intended career may not be what other people want for you.
To all millennials: Seek an interview. Your resume may not be strong but you need to get in front of the shop owner and show your maturity, drive, and passion to work in the industry.
Eric Svedberg was featured in episode 167 HERE.
Shop Profile

| | |
| --- | --- |
| Number of locations: | 1 |
| Years in industry: | 30 |
| Years business ownership: | 24 |
| Number of technicians: | 3 |
| Number of service advisers: | 1 |
| Number of lifts: | 3 |
| Number of bays: | 3 |
| Days open: | Mon – Fri |
| Annual estimated volume: | $1,050M |
| Percent Repair vs Maintenance vs Other: | 50-40-10 |
| Technician training hours per year: | 48 |
| Service adviser training hours per year: | 12 |
| Specialty: | We operate on a high efficiency based model |
| Speialization: | Asian and Domestic |
| Association memberships: | iATN |
| ASE Certifications: | ASE Master Tech |
| SMS: | Mitchell 1 |
| Paperless: | No |
| DVI: | Bolt On |
| Other Market Software: | Service Intelligence |
| Website provider: | Kukui |
| Primary supplier: | World Pac |
| Supplier marketing program: | ACDelco |
| Performing hybrid repairs: | Yes |
| Succession plan: | Yes working on |
| Biggest challenges: | Tech shortage |
| Business coach: | Cecil Bullard, The Institute |
| Entrepreneur hack: | Spend as little time as possible discussing the repair and as much time as possible getting to know your customer and their life. |
| Philanthropy: | Local Childrens Hospital |
Be socially involved and in touch with the show:
Facebook   Twitter   Linked In   Email
---
This episode is brought to you by Federal-Mogul


Motorparts and Garage Gurus. With brands like Moog, Felpro, Wagner Brake, Champion, Sealed Power, FP Diesel and more, they're the parts techs trust.  For serious technical training and support – online, onsite and on-demand – Garage Gurus is everything you need to know. Find out more at fmmotorparts.com  and fmgaragegurus.com