RR 347: Jonathan Ortiz of Foreign Affairs Auto – From Used Cars to Full Service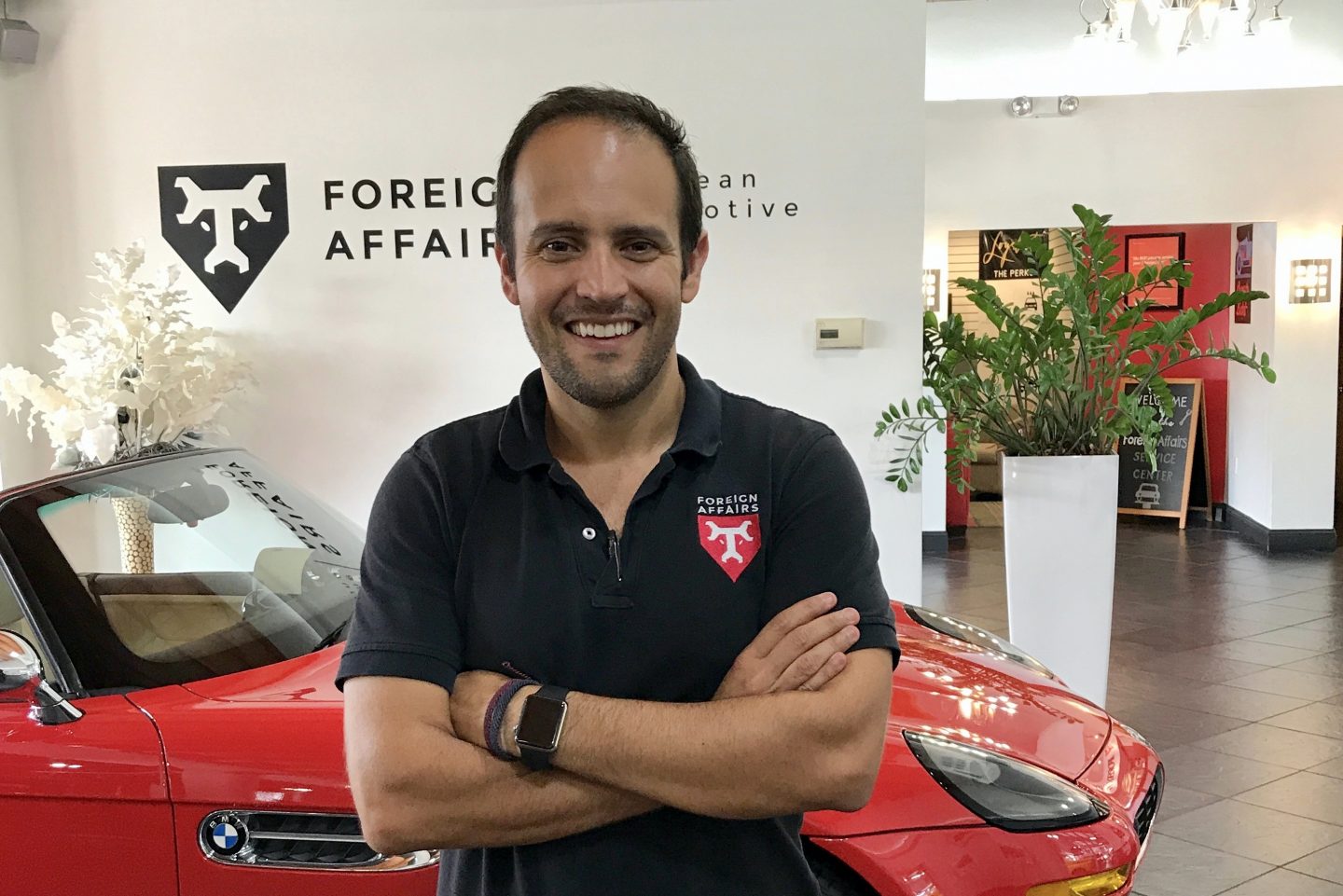 BIO:
Jonathan Ortiz is the son of Foreign Affairs Auto's founders Frank and Gloria Ortiz. He has an MBA from Northeastern Boston and is currently the general manager of the shop. He is the brother of the two-time Olympic soccer player, Melissa Ortiz and she works at the marketing department. His passion is customer service and he got this passion to serve from his family. His family created the culture of giving what you can. He is joined by a talented team of managers, technicians, and service staff.
Talking Points:
Family business.

Jonathan has his MBA from

Northeastern, Boston.

Jonathan was encouraged to go out on his own and get his education, but that he had an option to join the family business when he was ready if he wanted.

The company was a full-fledged used car dealer for years and after Johnathan and his Dad went to a management conference, they decided to change their business model to all service.

Foreign Affairs Auto's focus and passion are on the customer.

Their culture is people first.

The entire shop went to the WorldPac conference this year.

Techs are getting at least 30 hours per year of technician training.

Having lost a new hire before they were set to arrive, Jonathan changed his approaches to new hires.

The business focuses on same day repairs because his mainly Euro vehicle competition ties up the car for multiple days. They do not offer loaners because of this. The Euro car owner expects the vehicle to in the shop for more than one day and this provides differentiation in the market.

Recently moved to 5 days a week schedule so the team can spend time with their families.
Shop Profile

| | |
| --- | --- |
| Number of locations: | 1 |
| Total square feet of all facilities: | 10,000 |
| Partners: | Frank & Gloria Ortiz |
| Years in industry: | 14 |
| Years business ownership: | 36 |
| Number of technicians: | 5 |
| Number of service advisers: | 2 |
| Number of lifts: | 9 |
| Number of bays: | 10 |
| Days open: | Mon – Fri |
| Annual estimated volume: | $2.8M |
| Technician productivity: | 115% |
| Labor rate: | $149 |
| Effective labor rate: | $127 |
| Average repair order (ARO) $: | 946 |
| Average car count: | 250 |
| YTD gross profit percent: | 59% |
| YTD net profit percent: | 16% |
| Percent Repair vs Maintenance vs Other: | 60/40 |
| Technician training hours per year: | 40 |
| Service adviser training hours per year: | 20 |
| CEO training hours: | 60+ |
| Specialty: | European Brands |
| Aftermarket association memberships: | Bosch |
| Personal certifications: | MB, BMW, Audi Factory Master Tech |
| Special accreditations: | MBA |
| Shop management system (SMS): | RO Writer |
| Completely paperless?; | Yes |
| Digital Vehicle Inspection: | AutoVitals |
| Website provider: | Kukui |
| Primary supplier: | WorldPac |
| Biggest challenges: | Technician Shortage |
| Business coach: | Elite Worldwide |
---
Be socially involved and in touch with the show:
Facebook   Twitter   Linked In   Email    Events    Speaking
This episode is brought to you by Federal-Mogul

Motorparts and Garage Gurus. With brands like Moog, Felpro, Wagner Brake, Champion, Sealed Power, FP Diesel and more, they're the parts techs trust.  For serious technical training and support – online, onsite and on-demand – Garage Gurus is everything you need to know. Find out more at fmmotorparts.com  and fmgaragegurus.com