Are you a Shop Owner or a Business Owner [RR 525]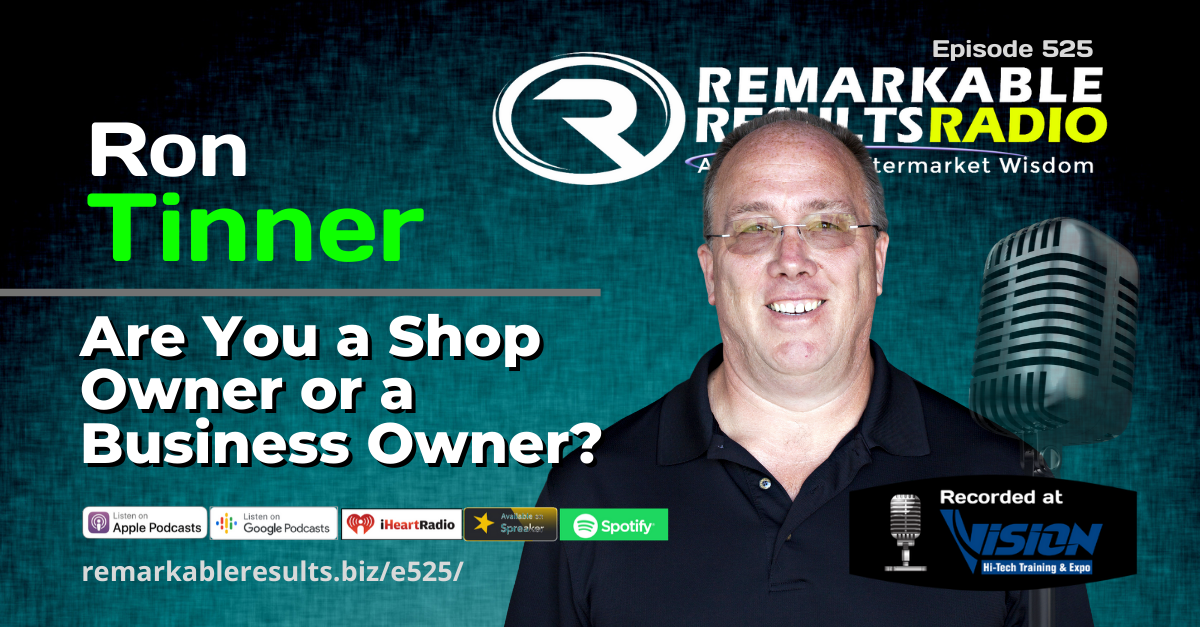 Guest Ron Tinner from Sparks Tire and Auto, St. Charles, MO a NAPA CarCare Center
Key Talking Points:
Best advice you ever received- Get off the counterOnce you start delegating responsibilities you realize what you could've been doing better all along
Many struggles are self-inflicted
Owner of business instead of the owner of the shop- have systems and employees in place so you can work on business
"A lot of guys spend a lot of money to buy themselves a job."
Need a business coach to hold you accountable
His business value went up when got off the counter
Learning moments Everyone has a dream, need to sit down and focus on how to be a businessman
Need culture in business to be successful- team building, employees staying late/coming in early, get together on weekends
When you run the business properly you have funds to purchase necessary tools and equipment
On average shops are short 3 people- 1 counter, 1 back office, 1 bayImportant to hire workflow manager first- puts out fires to keep other employees on task
CSR hire next to handle front office conversation
Back office last- marketing, bookkeeper etc
A bartender is favorite idea for front counter hire- a people person, listener
Greatest satisfaction as a coachHelping owners who don't understand effective labor rate as a number- not posted labor rate, effective labor rate
Seeing business and employees thrive without you running day to day operations
Resources:
Thanks to Ron Tinner for his contribution to the aftermarket's premier podcast.
Link to the 'BOOKS' page highlighting all books discussed in the podcast library HERE. Leaders are readers.
Listen for free on Apple Podcasts, Google Podcasts, Spreaker, iHeart Radio, Spotify, Podchaser and many more. Mobile Listening APP's HERE
Find every podcast episode HERE.
Every episode segmented by Series HERE.
Key Word Search HERE.
Love what we do? Buy Carm a cup of coffee HERE.
Be socially involved and in touch with the show:
Facebook Twitter Linked In Email
Join the Ecosystem – Subscribe to the INSIDER NEWSLETTER HERE.

The NAPA Smart Sign, previously known as Digital Menu Board, gives your shop a professional, state-of-the-art look and feel. It's a great way to educate and inform your customers about needed repairs and service, plus increase awareness of your current promotions. NAPA AutoCare Center that have installed a Digital Menu Board found one out of five consumers ask for a repair or service they've seen on the board. Targeted promotions resulted in double-digit increases. You choose the content from a library of auto care service and repair topics. The latest NAPA national promotions are downloaded to you automatically. And with the Digital Menu Board it's easy to change your services, prices, and video content anytime you'd like. Talk to your servicing NAPA store to find out more.
Learn more about NAPA Smart Sign and the hundreds of other benefits NAPA offers. Talk with your servicing NAPA store or visit www.NAPAAutoCare.com