Status of the Aftermarket – Journalist Mark Phillips [RR 538]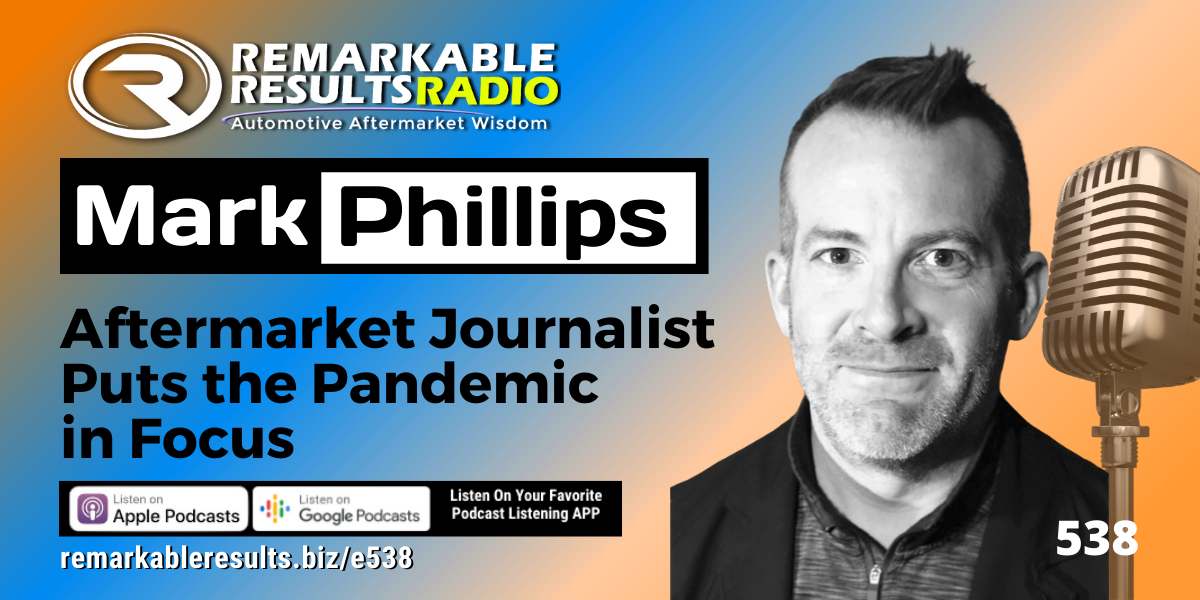 Mark Phillips is editor and publisher of Aftermarket Intel and has been in the automotive aftermarket for more than 12 years. Previously, he was editor of newspapers in several cities in Ohio and Boston. He is a graduate of Ohio Wesleyan University. Aftermarket Intel HERE.
Key Talking Points:
Automotive industry- essential industry during the pandemicLos Angeles County stay at home orders for next three months but Ohio has more than 90% of businesses are open- long road to reopening as a country
To get unemployment down to where it was (4%) it could take up to a decade or more
Easy to stop the economy and have people stay at home, harder to bring people back
Travel continued to be limited
Manufacturing facilities starting to reopen- are consumers ready to buy/lease vehicles when uncertain about employment? Opportunity for aftermarket repair businesses
GDP for the US is $20 trillion, over $20 trillion in debt- cannot stop spending
New legislation of $3 trillion for a relief package
Fear and uncertaintyWhat is coming? How to deal with it?
Luxury goods are no longer needed
More conservative with stimulus checks
VaccinePeople rely on what they know- most are not medical experts
Some people do not take flu shots and would be hesitant to take Covid-19 vaccine
Resources:
Thanks to Mark Phillips for his contribution to the aftermarket's premier podcast.
Link to the 'BOOKS' page highlighting all books discussed in the podcast library HERE. Leaders are readers.
Love what we do, buy a cup of coffee HERE.
Be socially involved and in touch with the show:
Facebook Twitter Linked In Email
Listen for free on Apple Podcasts, Google Podcasts, Spreaker, iHeart Radio, Spotify, Podchaser and many more. Mobile Listening APP's HERE
Join the Ecosystem – Subscribe to the INSIDER NEWSLETTER HERE.
This episode is brought to you by AAPEX, the Automotive Aftermarket Products Expo. AAPEX represents the $740 billion global automotive aftermarket industry and has everything you need to stay ahead of the curve. With 2,500 exhibiting companies, you'll see the latest products, parts, and technologies for your business. As a result, the event also offers advanced training for shop owners, technicians, warehouse distributors (WDs) and auto parts retailers, as well as networking opportunities to grow your business. AAPEX 2020 will take place Tuesday, Nov. 3 through Thursday, Nov. 5, 2020 at the Sands Expo in Las Vegas. Therefore, more than 48,000 targeted buyers are expected to attend, and approximately 162,000 automotive aftermarket professionals. They will be from 135 countries which are projected to be in Las Vegas during AAPEX 2020. For information, visit aapexshow.com

This episode is brought to you by Shop-Ware Shop Management. It's time to run your business at its fullest potential with the industry's leading technology. Shop-Ware Shop Management will increase your efficiency with lightning-fast workflows, help your staff capture more sales every day, and create very happy customers who promote your business. Shops running Shop-Ware have More Time and generate More Profit—join them! Schedule a free live demonstration and find out how 30 minutes can transform your shop at shop-ware.com