Wife Raised the Kids and After 27 Years and Partnered With Husband to Open a Shop [RR 554]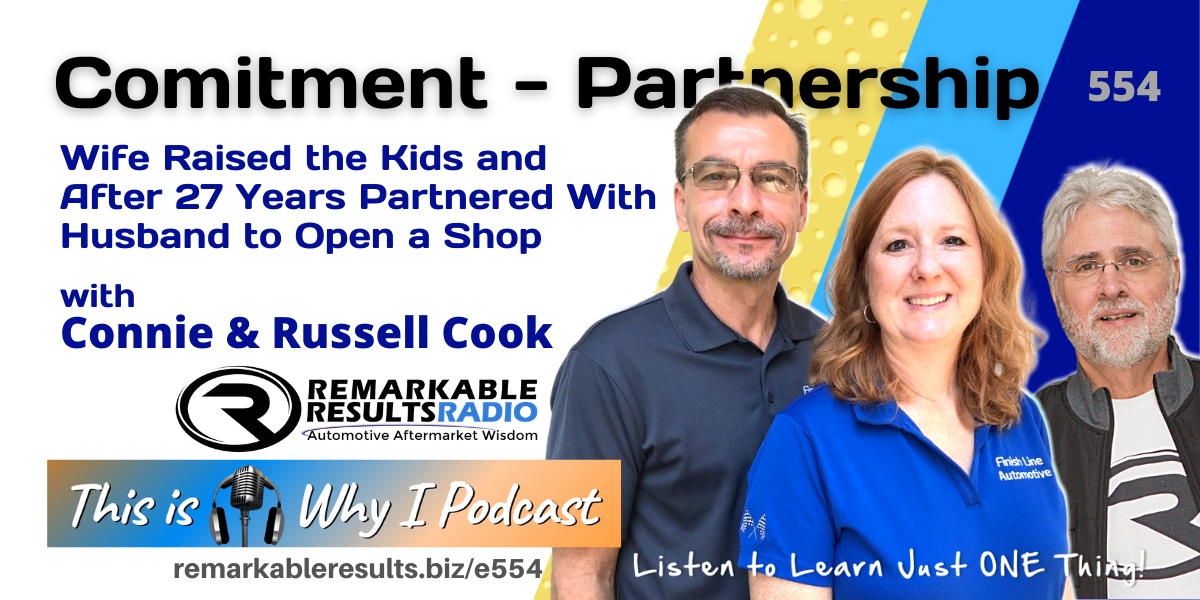 Connie and Russell Cook owns Finish Line Automotive in Ocala, FL.
Talking points:
Husband and wife story of commitment to open their own shop
Russel had a long commute and worked at a dealership
Connie finds a going shop within three miles of home and Russell did the research
Russell has 27 years experience as a dealership tech
Russell know they needed help on the finance side of the transaction
They put a lot of money as a down payment but put them in a tough position with working capital. That is why Russell continued to work at the dealership for 5 monthsThey have survived with his normal income
They will continue to take less of a salary to help the business get on a strong cash footing
They took ownership on February 1, 2020, and one month later Covid-19 hit. They are coming out of it very well
They kept some of their great, long time, people that have helped Connie transition
Connie had to learn to be a service advisor
Russell will jump in at whatever level he needs to do from counter to be in the bays
The business they bought had good consumer ratings. They keep hearing good talk about the business
They started with a database of 5,000 customers
They made a move on labor rates. They were too low compared to other shops. They also changed their menu prices
They fixed a credit policy that charged more if you used your credit card. Wrong thing to upcharge
A bright and well-lit waiting room
Fix it or repair the new businessComputer/Invoicing
Broadband speed
AC Recharger would not complete a functionCouldn't get it repaired
Bought a used on
Scan tool
They were blessed with the technicians that were in the business and the affordability of the deal.He has 5 bays and 4 usable
An alignment machine
Resources:
Thanks to Connie and Russell Cook for their contribution to the aftermarket's premier podcast.
Link to the 'BOOKS' page highlighting all books discussed in the podcast library HERE. Leaders are readers.
Love what we do, buy a cup of coffee HERE.
Be socially involved and in touch with the show:
Facebook Twitter Linked In Email
Listen for free on Apple Podcasts, Google Podcasts, Spreaker, iHeart Radio, Spotify, Podchaser and many more. Mobile Listening APP's HERE
Join the Ecosystem – Subscribe to the INSIDER NEWSLETTER HERE.
This episode is brought to you by AAPEX, the Automotive Aftermarket Products Expo. AAPEX represents the $740 billion global automotive aftermarket industry and has everything you need to stay ahead of the curve. With 2,500 exhibiting companies, you'll see the latest products, parts, and technologies for your business. As a result, the event also offers advanced training for shop owners, technicians, warehouse distributors (WDs) and auto parts retailers, as well as networking opportunities to grow your business. AAPEX 2020 will take place Tuesday, Nov. 3 through Thursday, Nov. 5, 2020 at the Sands Expo in Las Vegas. Therefore, more than 48,000 targeted buyers are expected to attend, and approximately 162,000 automotive aftermarket professionals. They will be from 135 countries which are projected to be in Las Vegas during AAPEX 2020. For information, visit aapexshow.com

This episode is brought to you by Shop-Ware Shop Management. It's time to run your business at its fullest potential with the industry's leading technology. Shop-Ware Shop Management will increase your efficiency with lightning-fast workflows, help your staff capture more sales every day, and create very happy customers who promote your business. Shops running Shop-Ware have More Time and generate More Profit—join them! Schedule a free live demonstration and find out how 30 minutes can transform your shop at shop-ware.com