Unscripted – Mitch Schneider – The Broken Arm Episode [RR 558]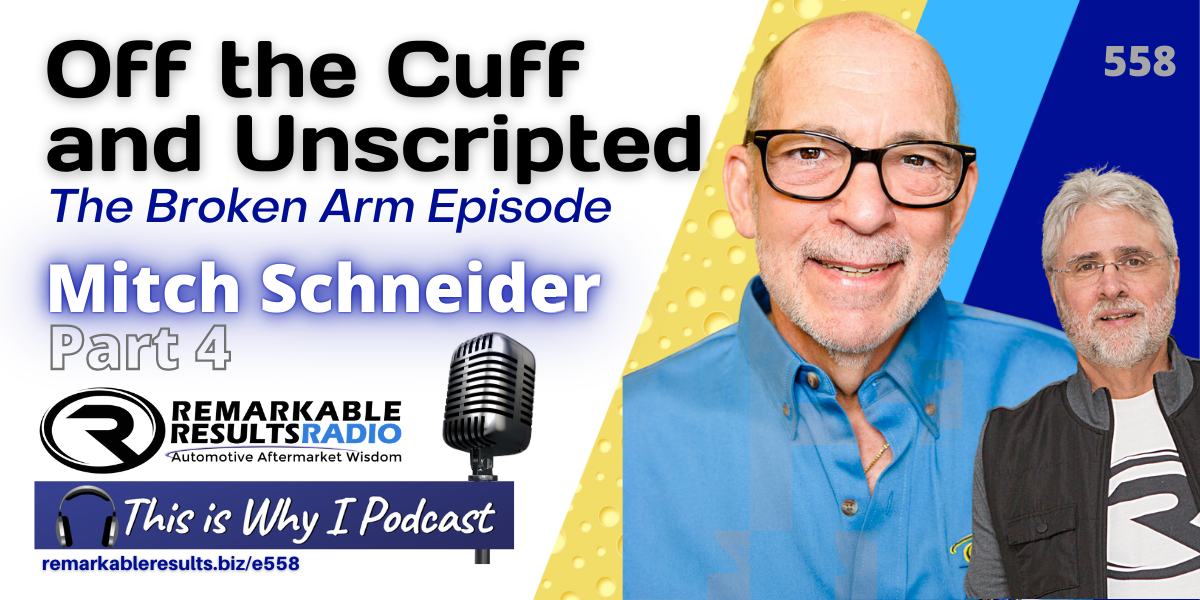 Mitch Schneider is a fourth-generation "mechanic/technician" recognized as a champion of service dealer and technician causes. Mitch is an award-winning journalist, former shop owner, and published novelist. For more than 37 years, Mitch operated Schneider's Automotive — a successful 6-bay, family-owned and operated service facility in Simi Valley, Calif.
Mitch has recent great news on the biggest challenge in his life as he has taken on Primary Myelofibrosis, a rare bone cancer, head-on. He is in his recovery after a successful stem cell /bone marrow transplant in April 2019. I'm so glad to have him back to discuss his novel Misfire: What to Do When Things Aren't Running on All Cylinders.
Look for Mitch's other episodes HERE.
Key Talking Points:
Fewer cars in the future?Millennials not as tied to personal transportation- use alternative transportation
Tech shortage- demand will fall as technology increases, fewer people working on fewer cars
Stem cell transplant surgery from a stranger in Israel Gave a sense of the purse to give back and leave something tangible behind
Book "Misfire" became legacy project
Goodness of peopleStrangers helping when Mitch fell and broke elbow- willingness to do the right thing
Open yourself to the universe to see what is out there
"You don't lose, you just learn"You will make mistakes, move on from it
In order to change the future is to be the future- be proactive to reactive
Success- always lean into the next challenge
Readers make leadersMitch sets aside 15 minutes per day minimum for reading
You are what you think and you think when you read
Automotive is essential and always has been Should always feel appreciated and admiration for services they provide
Make an investment in your own future
Resources:
Thanks to Mitch Schneider for their contribution to the aftermarket's premier podcast.
Link to the 'BOOKS' page highlighting all books discussed in the podcast library HERE. Leaders are readers.
Love what we do, buy a cup of coffee HERE.
Be socially involved and in touch with the show:
Facebook Twitter Linked In Email
Listen for free on Apple Podcasts, Google Podcasts, Spreaker, iHeart Radio, Spotify, Podchaser and many more. Mobile Listening APP's HERE
Join the Ecosystem – Subscribe to the INSIDER NEWSLETTER HERE.
This episode is brought to you by AAPEX, the Automotive Aftermarket Products Expo. AAPEX represents the $740 billion global automotive aftermarket industry and has everything you need to stay ahead of the curve. With 2,500 exhibiting companies, you'll see the latest products, parts, and technologies for your business. As a result, the event also offers advanced training for shop owners, technicians, warehouse distributors (WDs) and auto parts retailers, as well as networking opportunities to grow your business. AAPEX 2020 will take place Tuesday, Nov. 3 through Thursday, Nov. 5, 2020 at the Sands Expo in Las Vegas. Therefore, more than 48,000 targeted buyers are expected to attend, and approximately 162,000 automotive aftermarket professionals. They will be from 135 countries which are projected to be in Las Vegas during AAPEX 2020. For information, visit aapexshow.com

This episode is brought to you by Shop-Ware Shop Management. It's time to run your business at its fullest potential with the industry's leading technology. Shop-Ware Shop Management will increase your efficiency with lightning-fast workflows, help your staff capture more sales every day, and create very happy customers who promote your business. Shops running Shop-Ware have More Time and generate More Profit—join them! Schedule a free live demonstration and find out how 30 minutes can transform your shop at shop-ware.com