How to Have a Four Day Work Week with Eric Henley [RR 627]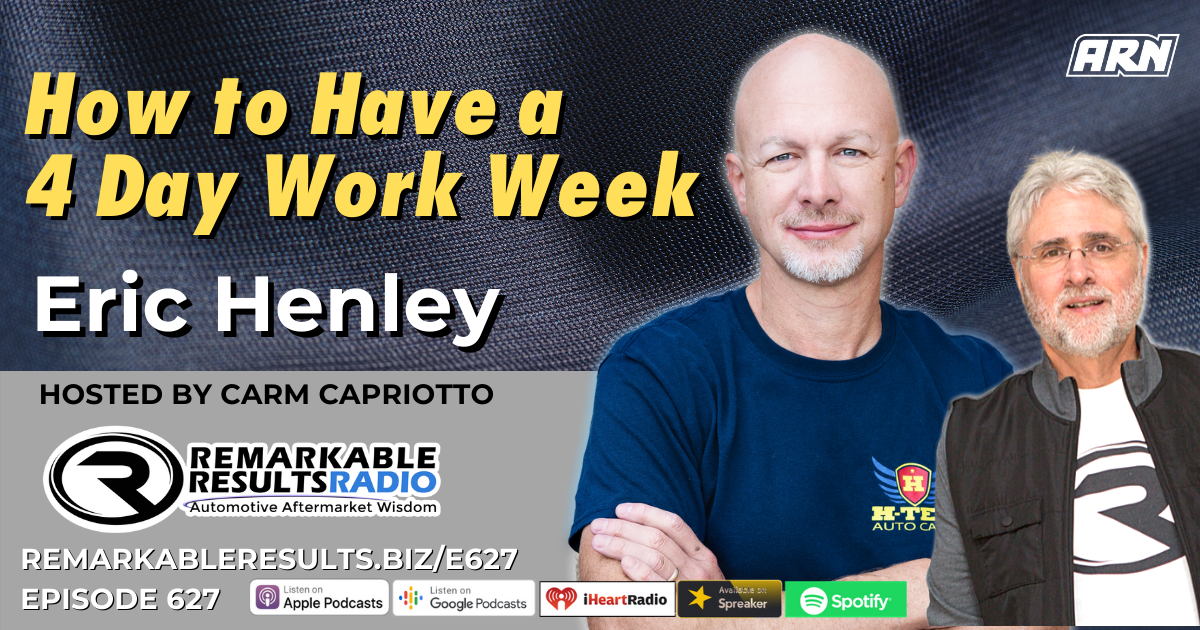 How to Have a Four Day Work Week with Eric Henley [RR 627]
Eric Henley, owner of H-Teck Auto Care in Gray, TN, is 4th generation of mechanical repair. He received an associate's degree in Auto Service Technology and spent over 15 years at a Honda dealership. Eric started H-Teck Auto Care in 2006 with just him, his dad and his wife. Going on over 15 years in business he now has a 6 bay shop.
4 generations in the automotive industryGrandfather was a blacksmith and father used to bring home cars to be fixed up. Eric grew up fixing bicycles, lawnmowers and cars.
Received an associates degree in Auto Service Technology
Spent 15 years in dealerships- income can go down as skill level goes up (more skilled jobs often wouldn't pay as much)
Hiring new techniciansUses Indeed and Facebook Marketplace but the best results come from word of mouth and referrals from existing employees
Current prospect is 21 year old Skills USA graduate
Current tenured technicians – 15 years, 11 years, 3 years
Food Friday'sEither grill or go out to eat every Friday- have employee meeting over a meal
All employees and Eric discuss any issues, improvements, ideas, areas needed for training, or tools needed. Open dialogue and non-formal
Eric gives his employees the opportunity for responsibilities in the business- currently working on updating SOP's with more DVI usage
Shop is open 5 days a week with weekends offEric is in the shop 4 days a week because he trusts his employees- they are good people able to follow the SOP's in place and make day to day decisions
Employees will know if you don't trust them- creates "neediness" for everything
Gives his employees monthly expenditures they can use for customers in need
Spends extra time in the community and with his family
He is very involved in his employee's lives and is flexible with work schedules based on their family schedules
What makes a great service advisor?Excellent people skills and communication skills- enjoy talking to people
Can think quickly on their feet, a warm personality, patient and good listener
Similar to a good waitress/waiter- there when you need them, listen to what you need, then go on to the next table.
Both of Eric's service advisors are in ongoing training
Best service advisor trainers- previous service advisor, or previous technician with good people skills, or having parts experience
TrainingRequires minimum 30 hours per year of training
Utilized online training a lot last year during COVID shutdowns
RRR 588 with Jim Fleischman and Matt Manzone- Dealership tech now works for an independent
Thanks to Eric Henley for his contribution to the aftermarket's premier podcast.
Link to the 'BOOKS' page, highlighting all books discussed in the podcast library HERE. Leaders are readers.
Listen for free on Apple Podcasts, Google Podcasts, Spreaker, iHeart Radio, Spotify, Podchaser, and many more. Mobile Listening APP's HERE
Find every podcast episode HERE.
Every episode is segmented by Series HERE.
Key Word Search HERE.
Be socially involved and in touch with the show:
Facebook Twitter LinkedIn Instagram Youtube Email
Join the Ecosystem – Subscribe to the INSIDER NEWSLETTER HERE.

NAPA Autotech Training helps your technicians keep their skills sharp and their NAPA Know How up to date. It's the highest quality technical training that covers almost every vehicle system and every make and model. NAPA Autotech is presented by experienced instructors who are ASE master certified technicians. Even after a class is over, techs can access course information online with ClassPass. So when questions come up later they can get the answers. AutoCare Center owners who have taken advantage of Autotech Training say that well-trained technicians are helping to increase their shop's repair capability and raise bay productivity. That results in fewer comebacks, more satisfied shop customers, and reduced technician turnover.
Learn more about NAPA AutoCare and the benefits of being part of the NAPA family by visiting www.NAPAAutoCare.com.