From Hobby to Drift Racing Career with Matthew Haugen [RR 628]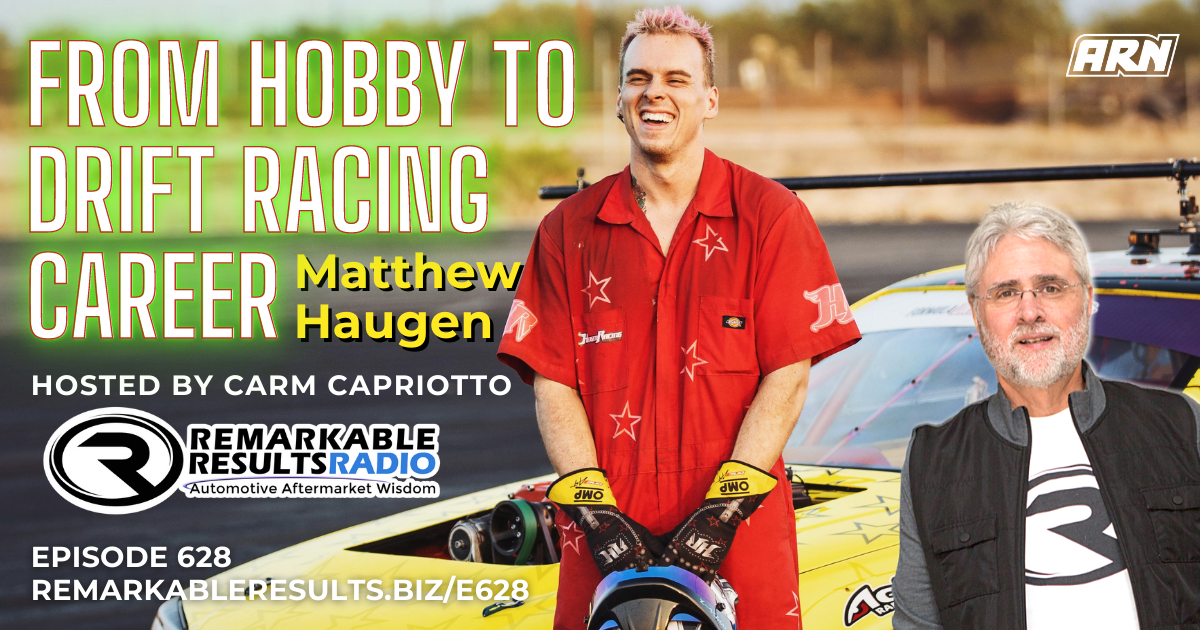 Matthew Haugen, owner of Haugen Racing, had a love for cars since he was born. His first SEMA Show car at age 16 was a 2008 Toyota Tundra, Since then he's had over 7 vehicles in the SEMA Show from 1 of 1 Liberty Walk Lamborghini Murcielago to 1JZ swapped Rocket Bunny 350z, dubbed the 351JZ. Matt has been a professional racing drifter since 2017 and has a successful YouTube Channel with 4 uploads per week. Visit https://www.haugenracing.com
Key Talking Points
Love for cars at an early ageAt 2 years old he was in a diaper and cowboy boots trying to take off the wheels of his dad's corvette
Started building cars at 18 for SEMA as a hobby
Attended Bondurant School for high-performance driving
Haugen RacingFrom an early age at 4 or 5 years old, Matt knew he wanted to have his own business (father was an entrepreneur and had his own business)
After college he launched an ecommerce parts business with a partner- also dabbled in various other startups
Received his Master's degree in entrepreneurship and innovation- started an addiction treatment center- shut down before COVID-19
Matt was still racing/drifting/building cars on the side as a hobby and started Haugen Racing as a once a week YouTube video channel- dove into it after treatment center shut down, now has 4 uploads a week and over 45K, subscribers
Revenue- Sponsorships with racing, YouTube, brand deals, and sells merchandise and has a large fanbase
Learning from failuresDoesn't regret the failures he had- got him to where he is now
From the different outlets he dabbled in prior, he is now focused on Haugen Racing
Didn't follow the 'traditional' post-grad school path and instead carved his own path
Advice- you can do anything if you work at it, educate yourself and charge hard
Thanks to Matthew Haugen for his contribution to the aftermarket's premier podcast.
Link to the 'BOOKS' page, highlighting all books discussed in the podcast library HERE. Leaders are readers.
Listen for free on Apple Podcasts, Google Podcasts, Spreaker, iHeart Radio, Spotify, Podchaser, and many more. Mobile Listening APP's HERE
Find every podcast episode HERE.
Every episode is segmented by Series HERE.
Key Word Search HERE.
Be socially involved and in touch with the show:
Facebook Twitter Linked In Email
Join the Ecosystem – Subscribe to the INSIDER NEWSLETTER HERE.

This episode is brought to you by AAPEX, the Automotive Aftermarket Products Expo. AAPEX represents the $740 billion global automotive aftermarket industry and has everything you need to stay ahead of the curve. The Virtual AAPEX Experience 2020 is in the record books. Virtual AAPEX lived up to presenting leading-technical and business management training from some of the industry's best and brightest. Now set your sights on the homecoming in Las Vegas in 2021. Mark your calendar now … November 2-4, 2021, AAPEX // Now more than ever.

This episode is brought to you by Shop-Ware Shop Management. It's time to run your business at its fullest potential with the industry's leading technology. Shop-Ware Shop Management will increase your efficiency with lightning-fast workflows, help your staff capture more sales every day, and create very happy customers who promote your business. Shops running Shop-Ware have More Time and generate More Profit—join them! Schedule a free live demonstration and find out how 30 minutes can transform your shop at getshopware.com/carm