The CEO Commitment with Mike Bennett [RR 647]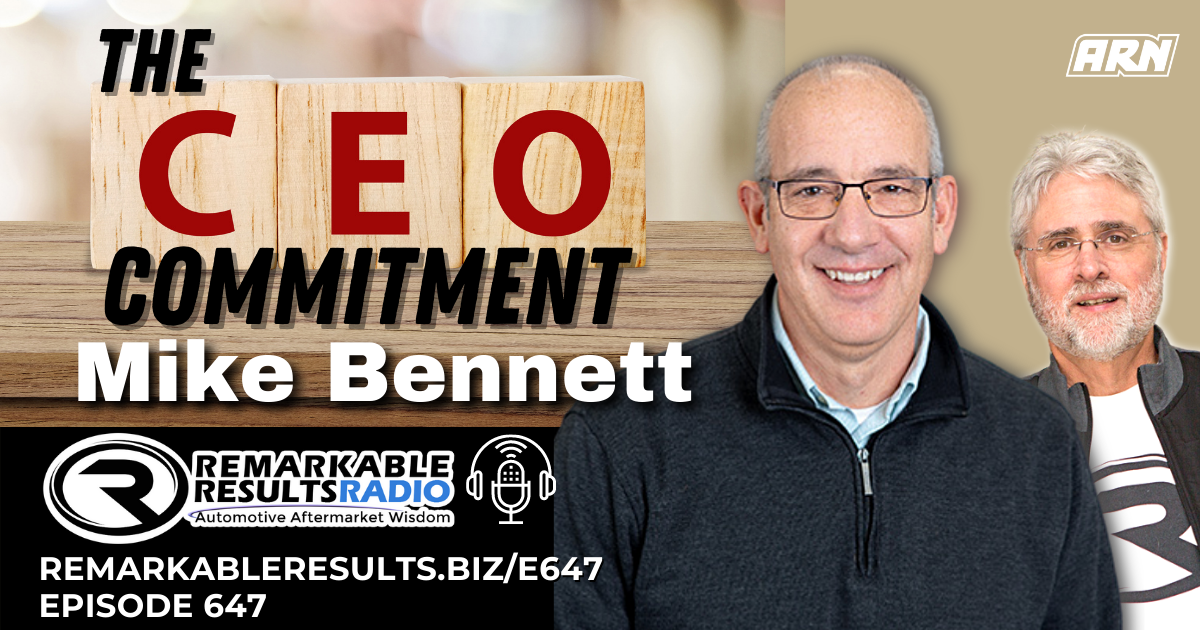 Mike Bennett has been in the industry since 1985. He is an ASE Master Tech who has worked for GM as Technician, Shop Foreman, Service Manager and Service Director for 2 locations.
Mike bought his current shop, Mike's Kars, in Gettysburg, PA in 1999. It is a a four-bay shop with 3 technicians. In 2011, he became a full-time coach with Automotive Training Institute helping shop owner's to re-engineer and grow their businesses. Mike Bennett's previous episodes HERE.
Key Talking Points
Coaching CEO's to their next level- changing focus, being director of "what's next?" Developing knowledge and skillset of true CEO mindset. Operate effectively in the position.
Getting outside perspective from different industries
Glass ceiling- going beyond being a shop owner and day to day operations
Growth-minded individuals- if you're willing to grow, growth will occur. Are you willing to put in the work?
Growth of business only moves as fast as the leader goes
Necessary qualification- position within the business, what is their level of involvement? Do they have solid organization below them? Second in command (COO)?
20 groups define peer networking
Changes in the industry- increased professionalism and training
Pandemic accelerated timeline for businesses to rise and the businesses that don't adapt for change to fall.
Succession- hot topic and reality of mortality in the working world. What does your legacy/succession look like? Sell to fund retirement?
Thanks to Mike Bennett for his contribution to the aftermarket's premier podcast.
Link to the 'BOOKS' page, highlighting all books discussed in the podcast library HERE. Leaders are readers.
Listen for free on Apple Podcasts, Google Podcasts, Spreaker, iHeart Radio, Spotify, Podchaser, and many more. Mobile Listening APP's HERE
Find every podcast episode HERE.
Every episode is segmented by Series HERE.
Key Word Search HERE.
Be socially involved and in touch with the show:
Facebook Twitter LinkedIn Instagram Youtube Email
Join the Ecosystem – Subscribe to the INSIDER NEWSLETTER HERE.

Since 1989 TRACS has been the industry's leading shop management system. And in the last 30 years it's gotten better and better. Today TRACS Enterprise offers even more of the features AutoCare Center owners want—things like a powerful interactive scheduling calendar, faster and streamlined work flow, plus streamlined parts ordering and purchasing options. And there's more—Punch-out to Mitchell ProDemand, mobile VIN capture, and multi-shop capabilities. That means you can count on TRACS Enterprise to help drive your success today and well into the future.
Learn more about TRACS Enterprise and the hundreds of other benefits the NAPA family has to offer. Talk with your servicing NAPA store or visit www.NAPAAutoCare.com