All Electric Vehicle Business Model – Dave Giles [RR 672]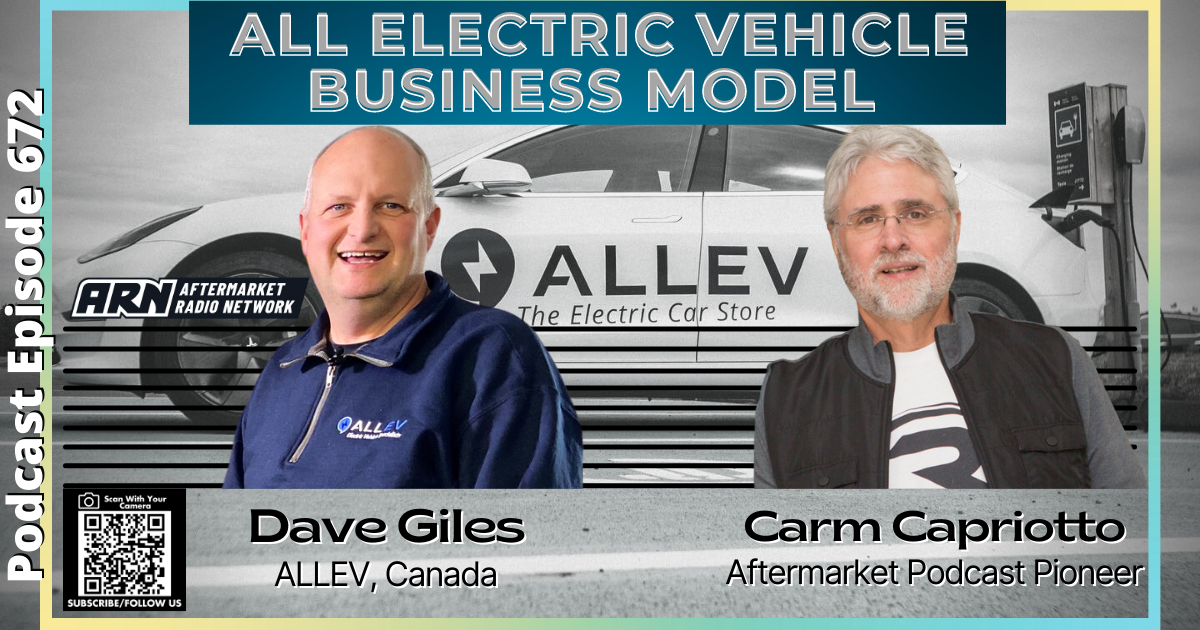 Dave Giles has been involved with the automotive, truck and transport and collision industries for over 30 years. He currently holds a Red Seal AST certification in Canada and is also certified HRAI instructor for the delivery and certification for controlled substances in several provinces as well as several other certifications and certificates in each trade involving advance vehicle technology and systems. He is often a guest speaker at several automotive conferences that involve battery electric vehicles and advance vehicle systems such as ADAS and automatous vehicles. His passion is to continue to learn and help find solutions for exciting and sustainable transportation for the future.
Dave started ALL EV Canada In 2019 with his partner Jeff Farwell. Their goal was to put affordable electric vehicles on Atlantic Canada roadways. During that time they acquired Pure EV another dealer in PEI. From there they built an incredible growing business with sales and service on electric vehicles. Just recently in July 2021, Steele Auto Group bought out ALL EV adding two more dealers to the 55 family of dealers they already own. In less than a month they have opened 3 more dealer locations for ALL EV by Steele. This was all done during the pandemic of Covid-19.
Key Talking Points
Hedgehog concept- good at one thing and excel at it. 

Made the transition to only EV's and hybrids- also sell EV's at auction and take in EV's on trade. 2 locations and 2 dealer lots. Inventory of over 60 EV's and about 15 Teslas are at 1 location. 6 bays shop for all EV repairs. Customers can shop for vehicles online. 

Tesla- service and repair vehicles, purchase parts (VIN number is recorded and the customer will also get a copy of the invoice that part has been purchased for the vehicle, the customer is aware the parts have a markup. Parts are made by others, the aftermarket will get smarter on bringing parts to market. Cross-referencing will slowly start to show Tesla availability), restricted on scan tools access for diagnostics. Not as difficult as people think. 

EV educators, not salespeople- more education involved with EV's with charging, range (buy as much as you can afford), how they work in winter/summer

Charging- 98% EV owners have their own homes to charge. Nova Scotia power program- install charger and $250 for next two years credit on account, allows control of charge rates during the night instead of overloading the grid. Fast chargers: 350-400 chargers in NS. One Tesla supercharger with 8 stations. Level 1- outlet charger, slower charge. Level 2 charger around $1000, Level 3- DCFC (direct current fast charging, booster).  

Truck towing capacity- nothing beats torc of electric motor, the truck platform for EV- bigger and stores more batteries
Thanks to Dave Giles for his contribution to the aftermarket's premier podcast.
Link to the 'BOOKS' page, highlighting all books discussed in the podcast library HERE. Leaders are readers.
Listen for free on Apple Podcasts, Google Podcasts, Spreaker, iHeart Radio, Spotify, Podchaser, and many more. Mobile Listening APP's HERE
Find every podcast episode HERE.
Every episode is segmented by Series HERE.
Key Word Search HERE.
Be socially involved and in touch with the show:
Facebook   Twitter   Linked In   Email
Join the Ecosystem – Subscribe to the INSIDER NEWSLETTER HERE.

This episode is brought to you by AAPEX, the Automotive Aftermarket Products Expo. AAPEX represents the $740 billion global automotive aftermarket industry and has everything you need to stay ahead of the curve.  The Virtual AAPEX Experience 2020 is in the record books. Virtual AAPEX lived up to presenting leading-technical and business management training from some of the industry's best and brightest. Now set your sights on the homecoming in Las Vegas in 2021. Mark your calendar now … November 2-4, 2021, AAPEX // Now more than ever.

This episode is brought to you by Shop-Ware Shop Management. It's time to run your business at its fullest potential with the industry's leading technology. Shop-Ware Shop Management will increase your efficiency with lightning-fast workflows, help your staff capture more sales every day, and create very happy customers who promote your business. Shops running Shop-Ware have More Time and generate More Profit—join them! Schedule a free live demonstration and find out how 30 minutes can transform your shop at getshopware.com/carm