Talking Tech: SVI, ADAS, Perception Systems, and Ethernet with Joe Register [RR 708]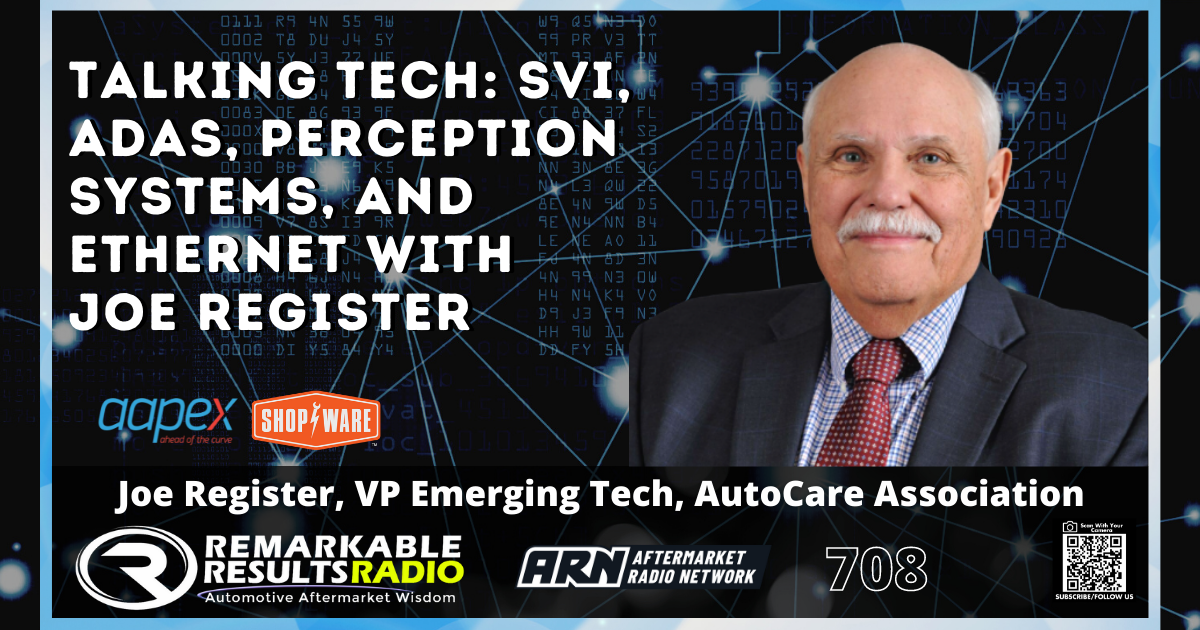 Key Talking Points
SVI- implemented by the OE's or dongle devices in legacy vehicles. Levels the playing field. Secure information. It's the consumer's choice.

Right to Repair- delayed because of an injunction rumors 

ADAS standards- recalibration challenges, standards, and targets are often written prior to actually doing the work and how it will be implemented. Sensors age and degrade over time and the recalibration process will need to be changed. 

Dynamic recalibration in the future- increasing capacity of computer systems in vehicles. 

Perception systems- augmented sensory collections, future communication with roadside stations, and other vehicles. Control modules are the brain/spinal cord, sensors are your eyesight and touch. 

Exponential growth in software and application of software-

Ethernet network- greater bandwidth, enables the data to be your personal profile preferences 

The consumers choice is made up with policies and technology
Connect with the show:
Check out today's partners:

This episode is brought to you by AAPEX, the Automotive Aftermarket Products Expo. AAPEX represents the $740 billion global automotive aftermarket industry and has everything you need to stay ahead of the curve.  AAPEX 2021 is in the record books and lived up to presenting leading-technical and business management training from some of the industry's best and brightest. Now set your sights on Las Vegas in 2022. Mark your calendar now … November 1-3, 2022, AAPEX – Now more than ever.

This episode is brought to you by Shop-Ware Shop Management. It's time to run your business at its fullest potential with the industry's leading technology. Shop-Ware Shop Management will increase your efficiency with lightning-fast workflows, help your staff capture more sales every day, and create very happy customers who promote your business. Shops running Shop-Ware have More Time and generate More Profit—join them! Schedule a free live demonstration and find out how 30 minutes can transform your shop at getshopware.com/carm
Joe Registeris the vice president of emerging technologies within the technology and standards department of the Auto Care Association. In his role as vice president of emerging technologies, Register is responsible for bringing the aftermarket perspective to vehicle technology development as new technologies are designed and introduced to the marketplace. This includes working with his global counterparts in industry standards-setting organizations, such as the International Organization for Standardization (ISO) and SAE International, to identify and address potential opportunities and threats that recent vehicle technology innovations create. Register joined the Auto Care Association's technology department in 2016, serving as director, technology solutions, and brings more than two decades of industry knowledge and experience in data and information technologies to the association. In his role as director, Register oversaw initiatives that serve the entire aftermarket industry through the development of automotive solution designs, including the development of Auto Care standards such as iShop and Internet Parts Ordering (IPO). Additionally, Register has long been a passionate supporter of all the Auto Care standards, including the Aftermarket Catalog Exchange Standard (ACES) and Product Information Exchange Standard (PIES), part of the Vehicle Information Portal (VIP). Listen to Joe's other episodes HERE