The Big Picture Program [RR 715]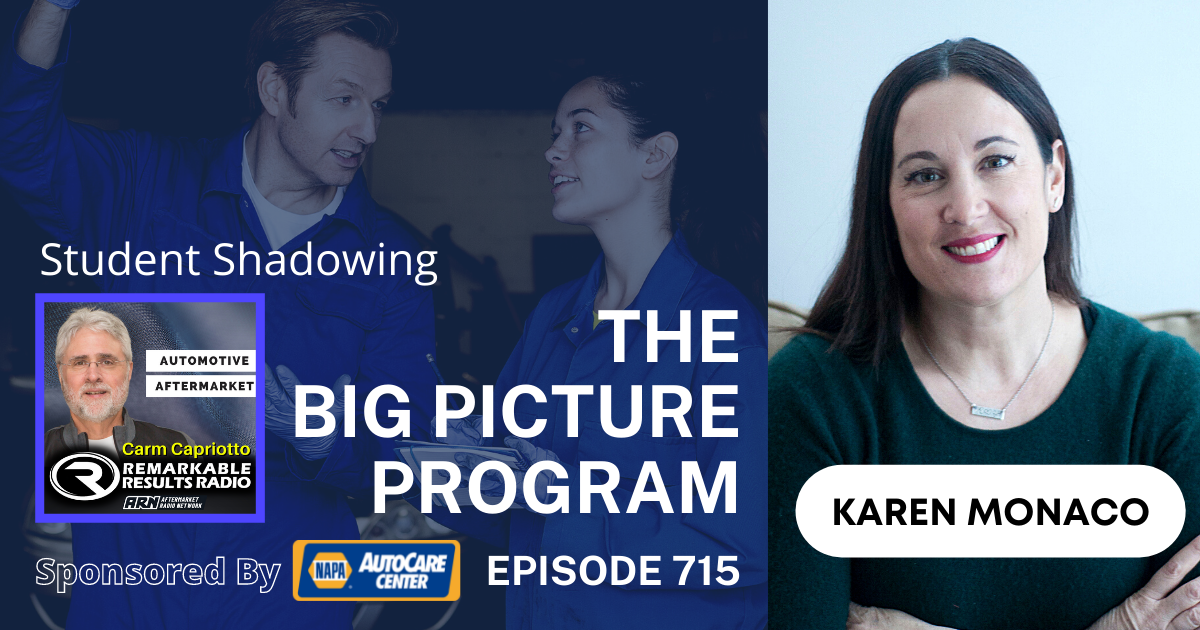 I recently had the privilege to connect with Karen Monaco, a teacher for a local school district and advisor for the Big Picture Program during a local independent shop owner meeting. This national program puts students at the center of their own learning through "leave to learn" internships and shadowing at local businesses. If you're not involved with education, this is your wake-up call to get started. All it takes is a phone call. My goal is that this episode shows you the way to engage our young people in our industry.
Karen Monaco, Big Picture Advisor and ELA Teacher, Kenmore-Town of Tonawanda School District
Key Talking Points
The Big Picture Program started 20 years ago, it is a national program bigpicture.org

90 students grade level 8th-12th.

15 kids per advisor- teaching real word learning through internships 

More than half of students don't know what they want to do next

Interest inventory- visiting different places/jobs/parks, "leaving to learn"

Most high schools will have some type of internship program/connection to the trades. Email the guidance office, go into school and speak to the students (zoom call too). Explain what a day-to-day looks like at your business. 

Shadowing- 1 student for 1 day 

Internship for Karen's school district- Tuesdays and Thursdays 9 am-1 pm, 6-8 week commitment

Soft skills – address an envelope, write a check, dress code, sign name, tell time on an analog clock, resume building 

Insurance policy for students to eliminate risk when they go to businesses
Connect with the show:
Check out today's partner:

NAPA AutoCare's PROimage program makes it easy for you to make the most of the NAPA brand. A PROimage upgrade lets you maintain your shop's identity as a reliable, locally-owned business while letting your customers and potential customers know you're partnering with NAPA, the most recognized and trusted name in the automotive aftermarket. AutoCare Centers that have completed a PROimage exterior upgrade enjoy an average 23 percent sales increase during the first year. You can also choose to go PROimage on the interior and transform your customer waiting area from merely utilitarian to warm and welcoming. You can even get a free look by visting www.NAPAAutoCare.com and clicking on the NAPA PROimage link under the NAPA PROimage tab. Of course, the AutoCare site is also the place to go to find out about all the advantages being part of the NAPA family has to offer.