Growing? Is Another Shop In Your Future? – Greg Bunch [RR 742]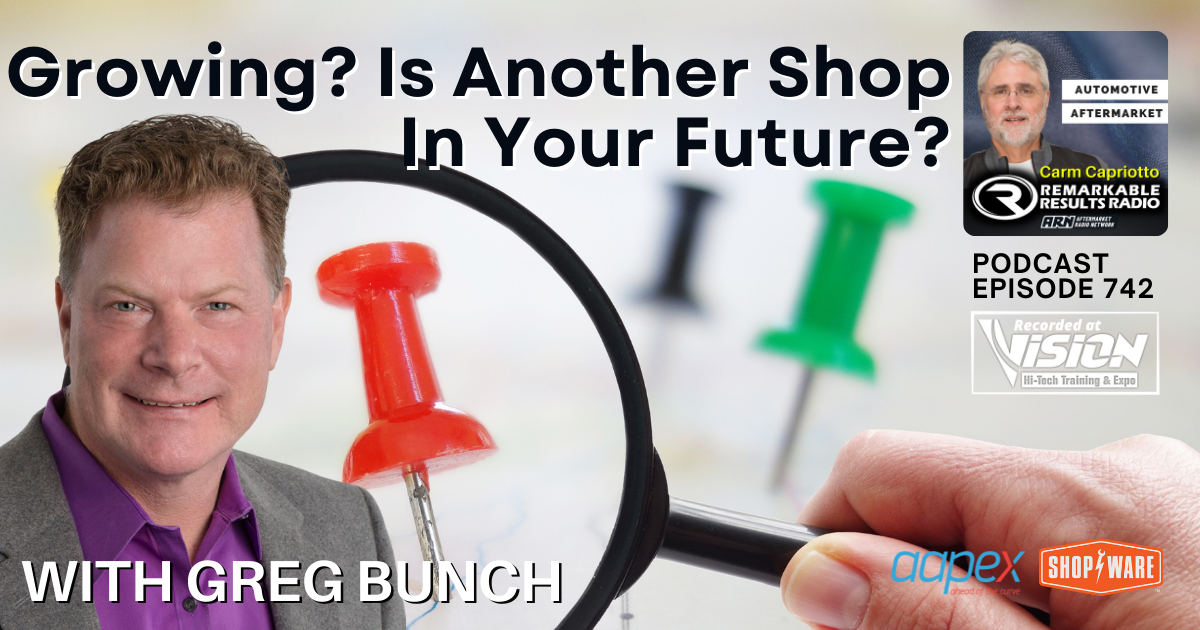 Ever heard of the 'entrepreneurial curse?' Do you see opportunity everywhere you look? Are you ready to go multi-location? Or have you been approached to sell? I'm with Greg Bunch from Transformers Institute at Vision 2022 and we discuss the boom in becoming a multi-shop owner and the future of our industry.
Greg Bunch, Aspen Auto Clinic, Transformers Institute. Listen to Greg's previous episodes HERE.
Key Talking Points
Hard lesson learned from IRS

Entrepreneurial curse- doing it right, seeing opportunity everywhere

Retire with purpose- retiring 'early' isn't always the best

3-4% of shop owners are multishop

Opportunities for private equity acquisitions- having multi shops changes the multiplier.

Does your business rely on you to run?

Transformers Institute- Prepping store for growth and talking through acquisitions, partnership, and financing. Education and analysis.Formed different groups, 3 platinum, 3 gold, with a waiting list. "Group of growing peers," recent group is a shop foreman group (getting more out of the shop with than without)

Advice- be curious, ask questions, research

Future- electric cars, gas prices, Q & A program for inbound calls (50 per month) measures over 50 data points (tone of voice, price on the phone) people are missing empathy when speaking with customers
Connect with the Podcast:
Check out today's partners:

Set your sights on Las Vegas in 2022. Mark your calendar now … November 1-3, 2022, AAPEX – Now more than ever. And don't miss the next free AAPEX webinar. Register now at AAPEXSHOW.COM/WEBINAR.

More Time. More Profit. Transform your shop at getshopware.com/carm