Building a Reliable Mentor/Mentee Program – Marc Brune [RR 780]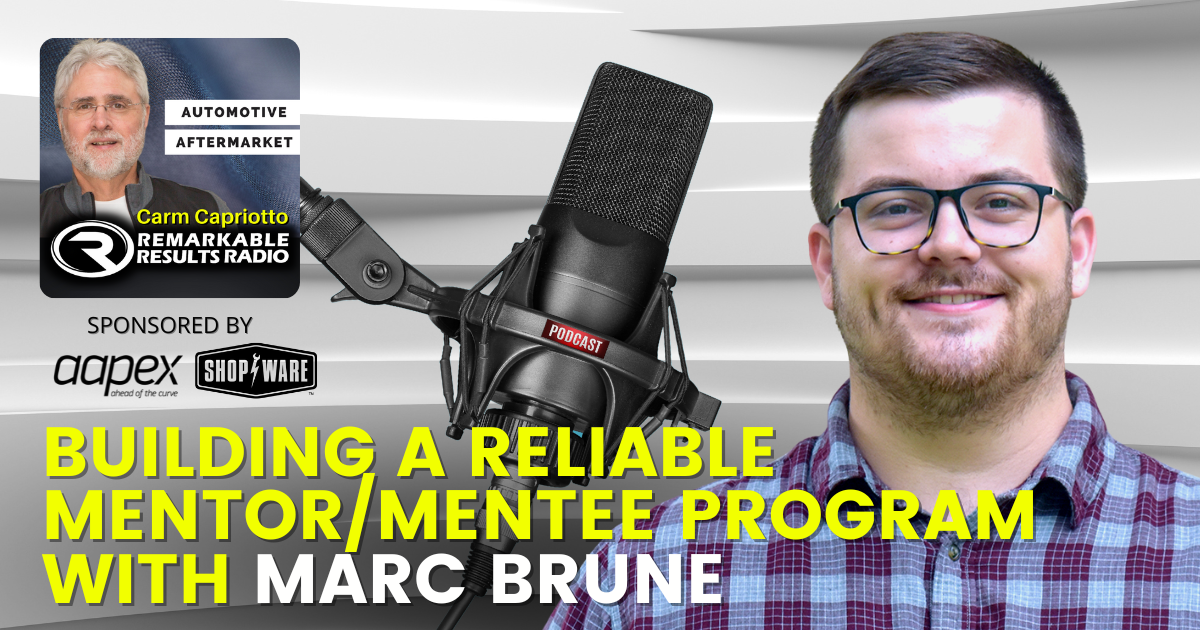 Did you know that 70% of change initiatives with new programs/systems will fail due to a lack of leadership commitment?  I want to focus on mentor/mentee and apprenticeship programs, which are most critical to our industry's survival.  You can lose your way without processes, procedures, and accountability to mold your apprentice into your shop. Too much talk and not enough action is the breakdown.  Luckily for you, my guest, Marc Brune, has a program focused on helping businesses develop entry-level technician mentoring programs with the tech shortage in mind. 
Marc Brune, Business Development Manager, mentormentee.com 
Key Talking Points
3 key people- manager, mentor, mentee

People are looking for a plan and someone to help along the path

Preparing for business before entry-level candidate comes on board- do you have the right culture for a positive mentor-mentee atmosphere? Who will be the best person to step in (manager) and mentor (can multitask)

Mentor- teaches not only automotive but also speaks the culture of the shop 

Mentoring vs. teaching- teaching is 1-way street, and mentoring is a 2-way street

Assessment- 15 different categories, ranked in order of importance

Educate- set expectations for each role

Execution- have mentee and plan

Plan- having a repeatable plan 

Online course specific for each role- 3 hours each

Facilitating growth- offers ASE task lists used in ASE accredited program

Soft skills- customers are a part of your business

Setting goals- mentor and mentee can set specific goals with dates and be able to adjust  

Recruit- "the important things are never urgent, and the urgent things are never important." Have the recruiting mindset.   

Execute- daily on the job training plan for mentees and track progress

Analyze and reward- get the data flowing on how the mentor/mentee progressing. Build incentives for growth with both mentor/mentee. Don't let your mentors go red in their pay.
Connect with the Podcast:
Check out today's partners:

Set your sights on Las Vegas in 2022. Mark your calendar now … November 1-3, 2022, AAPEX – Now more than ever. And don't miss the next free AAPEX webinar. Register now at AAPEXSHOW.COM/WEBINAR.

Shop-Ware: More Time. More Profit. Shop-Ware Shop Management getshopware.com