What Is Your Duration of Service? Carolyn Coquillette [RR 810]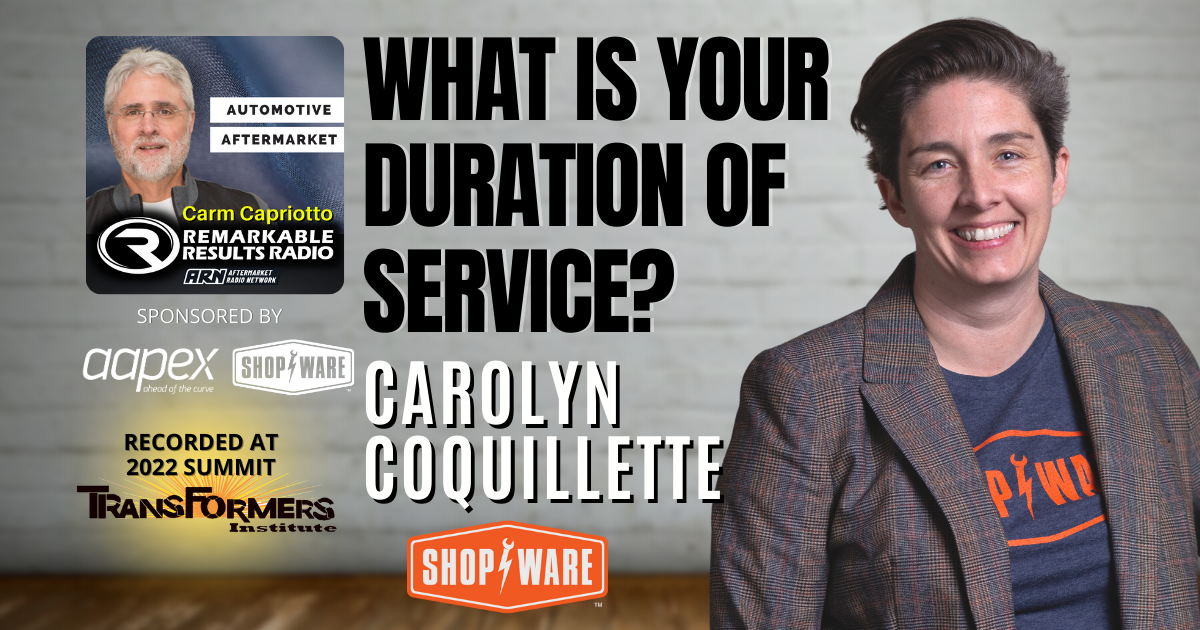 Recorded Live at the 2022 Transformers Summit with Carolyn Coquillette, founder and CEO of Shop-Ware. Carolyn discusses a spotlight of Shop-Ware called 'Duration of Service.' This feature tracks how long a customer's car is in your shop. The customer experience and your profits depend on the number of hours each car is in which stage of production.
Carolyn Coquillette, Luscious Garage, San Francisco, CA is the new ASCCA President. She's also the Founder and CEO of Shop-Ware. Listen to Carolyn's other episodes HERE.
Show Notes:
Duration of service- what does the customer experience? How long were they aware from their car? You want a low duration of service. 

How much money did you make for the number of hours that car was in the shop?

Speed is not enough- it's how much profit you are getting for the amount of time that the car is in the shop

Saves all the data from last month to compare month by month

When the car is not getting fixed you're not generating gross profit

Signup for a Shop-Ware demo- getshopware.com
Connect with the Podcast:
Check out today's partners:

Set your sights on Las Vegas in 2023. Mark your calendar now … October 31 – Nov 2, 2023, AAPEX – Now more than ever. And don't miss the next free AAPEX webinar. Register now at AAPEXSHOW.COM

Shop-Ware: More Time. More Profit. Shop-Ware Shop Management getshopware.com