What is OSHA Looking For? Ignorance is Not an Excuse. [RR 824]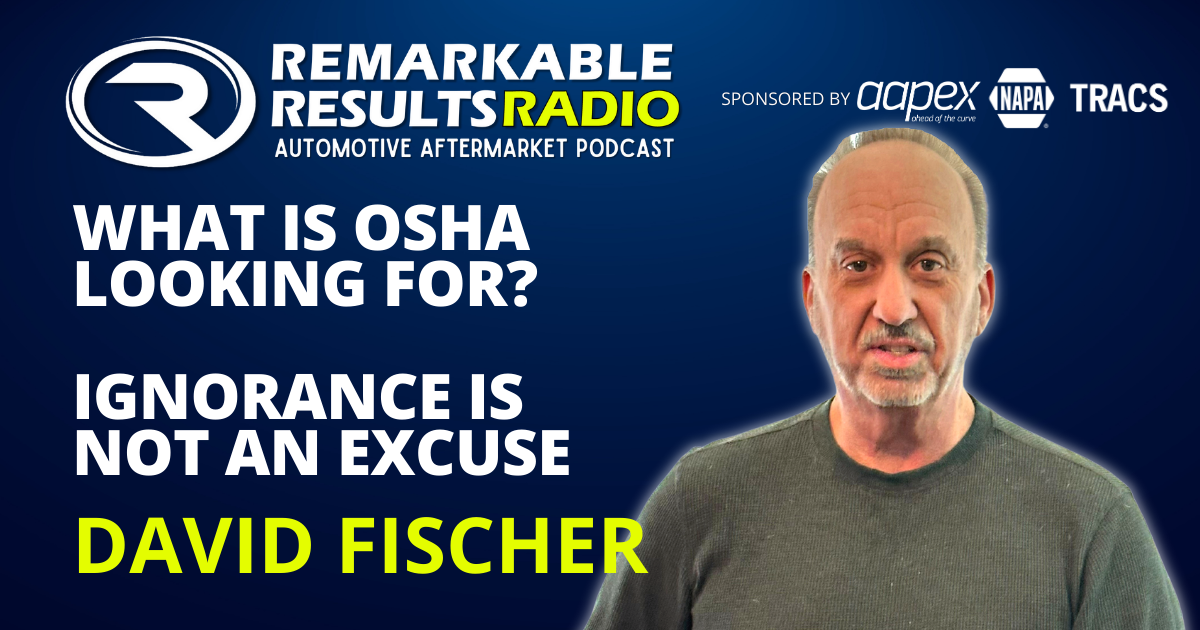 In this episode, consultant David Fisher gives you a chance to understand OSHA and keep you compliant. This is a must listen episode. The information could save your business.
Regarding workplace safety and HR compliance, 85 – 90% are not compliant across America. To be non-compliant could cost your business. OSHA will interview your employees. Are you inspecting your lifts yearly? Does your team have access to SDS sheets (Safety Data Sheets). Are you giving all your employees access to your safety program? OSHA is ramping up stricter enforcement procedures. Invest in an annual walk of your shop from an OSHA consultant and get the accountability you need to prevent huge fines.
California Employer's Services. OSHA & Labor Law Experts. Dave's previous episodes HERE
Show Notes
OSHA – will now interview your employees while inspecting your job site

Ignorance is not an excuse anymore

OSHA has determined that they want safety in the workplace.

Compliance is like a picture painted by numbers. The more numbers you have filled in, the better off you're gonna be.

OSHA is looking for, among others is your safety program, safety training, documentation, workers' compensation

You've got 72 hours to a week at the most to get it back to them with your reply.  After they get your reply, they're gonna review it, and then they're gonna assess the fines and fine you accordingly.

No matter what state you do business in, you must meet the basic OSHA standards.

Every year, you must have your lifts certified/inspected. You can certify them yourself if you installed them. The company that sold them can certify them. But if you install them, the state feels you have the wherewithal to inspect them and certify them. Be careful.

There is no easy button for safety or HR compliance.

The one thing you do have to be aware of is that if you name a safety officer in your business, they're gonna be tied into any potential lawsuit that arises out of a safety act or an accident in the workplace.

OSHA knows that we, as a group of consultants, have more authority and more power over employers than they do

When a company has paid money for a safety consultant, they know that the shop has an accountability partner,

If you're gonna get with an HR services company, make sure they're working with actual attorneys. Make sure that these attorneys are gonna be there for your clients.

You can have a perfectly legal employee handbook that covers the policies adequately. But you may not be able to take that employee handbook into court because when you go to court, there are certain things that the judge is gonna look at to make sure is in certain places of your employee handbook. If it's not in those places, you're gonna have two strikes against you in the eyes of the judge before you even start

One is your at-will status between page one and page three

Number two is your sexual harassment policy. Is it between pages three and page five?

 Does your sexual harassment policy include bullying in the workplace and all the other things that have now been dovetailed into that policy?

You need to understand your policy and how a termination, not done correctly, can hurt a suit from a former employee.

This three strikes you're out is a joke. There is no effort to rehabilitate the employee in most companies. Some companies are very progressive, and that's a good thing.

Create a very positive workplace culture. 

Compliance is always cheaper than the fines and the hassle

Link to handout David spoke about: HERE.
Thanks to our Partners AAPEX and NAPA TRACS.
Set your sights on Las Vegas in 2023. Mark your calendar now … October 31 – Nov 2, 2023, AAPEX – Now more than ever. And don't miss the next free AAPEX webinar. Register now at AAPEXSHOW.COM
NAPA TRACS will move your shop into the SMS fast lane with onsite training and six days a week of support and local representation. Find NAPA TRACS on the Web at NAPATRACS.com
Connect with the Podcast:
-Join our Insider List: https://remarkableresults.biz/insider
-All books mentioned on our podcasts: https://remarkableresults.biz/books
-Our Classroom page for personal or team learning: https://remarkableresults.biz/classroom
-Buy Me a Coffee: https://www.buymeacoffee.com/carm
-The Aftermarket Radio Network: https://aftermarketradionetwork.com
-Special episode collections: https://remarkableresults.biz/collections
Check out today's partners: