Technology Horizon, Do You See It? [RR 838]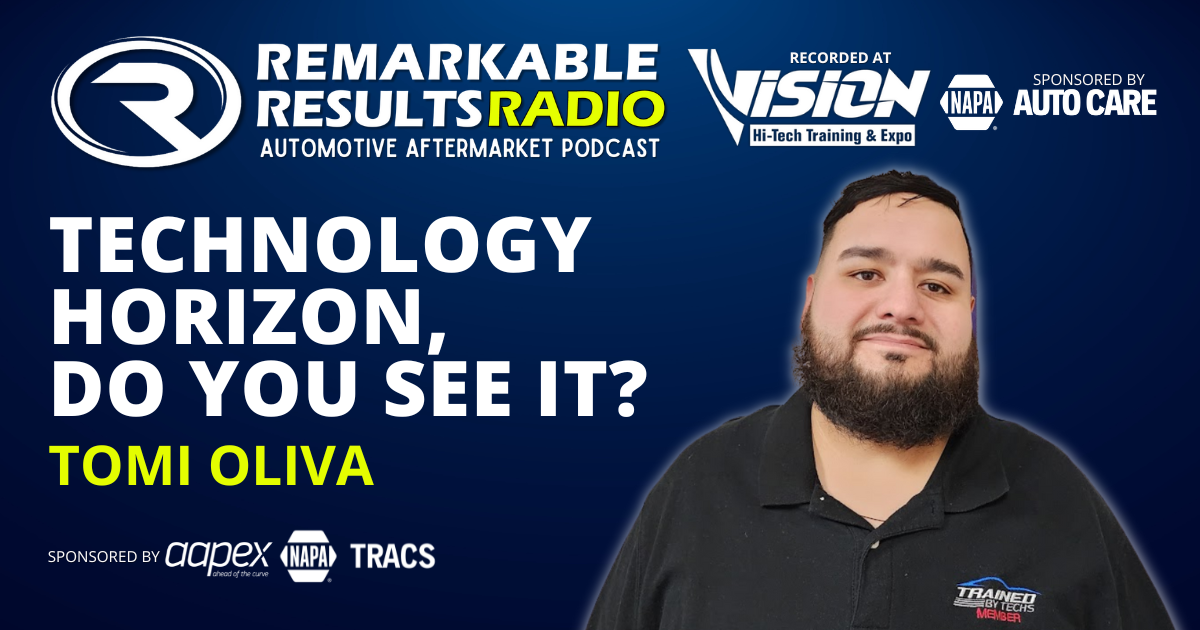 Recorded Live at Vision 2023, Tomi Oliva discusses the importance of training, the need for shop owners to understand the strengths of their employees, and the future of the industry, particularly with the rise of electric vehicles.
Tomi Oliva, San Jose Automotive Center INC, Trained by Techs. Tomi specializes in Advanced Diagnostics, Hybrid Systems maintenance and repair, Module reprogramming and installation, and Emissions repair. Tomi's previous episodes HERE
Show Notes
Watch Full Video HERE
Importance of Training and Evolving [00:03:02] The importance of training and evolving in the automotive industry, and the need for shop owners to understand the strengths of their employees.
Playing to Employees' Strengths [00:04:19] The importance of recognizing and playing to the strengths of employees in the shop, and how it can benefit the business.
Tommy's Evolution in the Industry [00:06:09] Tommy's personal evolution in the industry, and the importance of evolving to stay relevant.
Specializing in diagnostic work [00:09:54] The importance of specializing in diag work and not trying to be a one-stop-shop for all automotive services.
Qualities of a great diagnostic tech [00:12:20]
Apprenticeship programs [00:13:22] The benefits of having an apprenticeship program and the potential for apprentices to find work with other shops in the industry.
Flat Rate vs. Salary [00:16:55] The importance of shop owners being willing to pay for training and investing in their employees
Corporate vs. Mom and Pop Shops [00:18:20] Comparison of the automotive industry to the food industry in Chicago, discussing the pros and cons of corporate vs. mom and pop shops, and the need to set a higher standard in the industry.
Lessons from Tommy's Father [00:20:24] Reflection on the lessons learned from Tommy's father, including the foundations for hard work and responsibility, and the importance of reflecting on those lessons after they are gone.
Mobile Business [00:21:54] Discussion on the profitability and challenges of mobile business in the automotive industry.
Marginal Shops [00:24:03] The impact of mobile business on marginal shops and the need for some of them to go out of business due to the information gap.
Trained by Techs [00:26:35] The birth and evolution of Trained by Techs
Technology Horizon [00:28:06] The importance of paying attention to the technology horizon, specifically EVs, and the need to embrace them in the industry.
Tommy Oliva's Superpower [00:28:41]
Positive effects of COVID-19 [00:30:35] The positive effects of COVID-19 on society, including increased awareness of health and wellness.
Advice for technicians and shop owners [00:31:33] Advice for technicians and shop owners, including not being afraid to demand things from employers and finding the area of the industry that they enjoy the most.
Thanks to our Partners, AAPEX and NAPA TRACS.
Set your sights on Las Vegas in 2023. Mark your calendar now … October 31 – Nov 2, 2023, AAPEX – Now more than ever. And don't miss the next free AAPEX webinar. Register now at AAPEXSHOW.COM
NAPA TRACS will move your shop into the SMS fast lane with onsite training and six days a week of support and local representation. Find NAPA TRACS on the Web at NAPATRACS.com
Connect with the Podcast:
-Join our Insider List: https://remarkableresults.biz/insider
-All books mentioned on our podcasts: https://remarkableresults.biz/books
-Our Classroom page for personal or team learning: https://remarkableresults.biz/classroom
-Buy Me a Coffee: https://www.buymeacoffee.com/carm
-The Aftermarket Radio Network: https://aftermarketradionetwork.com
-Special episode collections: https://remarkableresults.biz/collections